President of the Future?
By Eter Tsotniashvili
Monday, December 31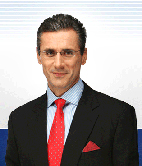 Profile: Giorgi Maisashvili
This is the sixth in the Messenger's series of profiles of the seven presidential candidates.
Biography
Full Name: Giorgi Maisashvili
Party: Party of the Future
Political office: None
Date of Birth: November 24, 1962
Place of Birth: Tbilisi
Education: Tbilisi State University Faculty of Economics, Kennedy School of Government at Harvard University
Spouse: Robin Maisashvili
Children: Ann, Shalva and Sophy
Gia Maisashvili threw his hat in the race for president this summer, one of the first candidates to do so. He needed the extra time: the American-educated recent returnee began the race as a relative unknown Georgia, without the organizational structure some of his more politically entrenched competitors enjoy.
He has focused his campaign on Georgia's economic situation—something which plays to his credentials—and taken a consistently moderate rhetorical tack as the election campaign has elsewhere degenerated into accusations of vote-rigging and coup plotting. He is non-confrontational stance, however, has had little noticeable effect in calming the situation, and polling suggests he is in the bottom tier of opposition candidates.
American-trained economist
Maisashvili has spent most of his career in the United States, notably working for the government affairs department of fallen energy giant Enron. He helped create a computer system to quantify the cost of new government regulations, helping Enron executive decide when they needed to bankroll Washington lobbyists to stop unprofitable changes in the law.
"I would tell [senior executives], 'This is your exposure. You decide whether it is worth it to use the lobbying machinery,'" Maisashvili told a Wall Street Journal reporter in February, 2002.
In 2001, Maisashvili left the company shortly before it imploded in one of America's largest accounting scandals. Later, he said he quit because company executives had no regard for the public good when calculating how to leverage their vast political weight.
Returned to Georgia as Shevardnadze fell
Maisashvili returned to Georgia in 2003, with the Rose Revolution running full steam ahead. He became an economic consultant for revolution leader and incumbent presidential candidate Mikheil Saakashvili, reportedly drafting much of the Rose administration's economic plan.
He soon split with Saakashvili, starting the "Government of the Future" and entering ultimately fruitless talks on teaming up with opposition politicians, including ex-foreign minister and opposition coalition candidate for prime minister Salome Zourabichvili.
Maisashvili also founded a "leadership school" in Tbilisi, which claims to have more than 350 alumni.
Maisashvili's family lives in London, where his American wife, Robin Lightner Maisashvili, works as a lawyer. She told Rustavi 2 that the family is considering a move to Tbilisi.
"We are talking so much about Georgia that it's not foreign for me any more," she said.
Maisashvili currently lives with a cousin in Tbilisi.
'Party of the Future' and a government of 'giftedness'
Maisashvili founded Party of the Future this July as a platform for his run at the presidency.
"The economy, the educational system and social solidarity: these are the three main things that our government needs to ensure," Maisashvili says.
Maisashvili's stump speech focuses on Georgia's economic travails—and the solutions he claims to have.
Advocating a "new model of economics," Maisashvili says his top economic priority is overseeing the creation of new jobs and businesses.
"Jobs are made by businesses, so our main goal is to increase businesses," he said.
Talk of national security is notably underemphasized in Maisashvili's talking points. He suggests the first criterion for voters to assess government is whether it is successfully creating more jobs. Failing to do this, he continues, would be a failure of government itself.
"Just fountains, facades and roofs are a mere deception. When the president praises himself by pointing to these things, it means he is mocking the people," he said.
The American-educated economist, out of Georgia for most of the turbulence of modern independence, also condemns what he says is a clannish and exclusionary mode of governing.
"I have a group [supporting me], and this group is all of Georgia," he says. "Until now, those who came into the government brought with them their clans… They didn't allow the people of Georgia to be involved in the political and business processes; this is why there is this crisis. That's why, after repeated crises, the government has changed three times."
Maisashvili says his future government would be known as the government of "giftedness," employing only people who are true professionals.
Economic approach to the frozen conflicts
Maisashvili has his own solution for Georgia's secessionist conflicts. The first step, he says, is to resume good relations with Moscow.
"If I want to win, I should try to have a good relationship with Russia so that Russia doesn't consider us to be their enemy. This is difficult to accomplish, but it is not unachievable."
The second step, he continues, is to negotiate with the separatist regimes in South Ossetia and Abkhazia.
"When Georgia is an economically attractive country for them, they will return," he says.
Maisashvili has addressed the Ossetian and Abkhaz people directly, telling them that Georgia is their country too. He has proposed the position of prime minister or vice-prime minister be set aside for an ethnic Abkhaz, and ensuring that Abkhaz representatives are given seats in parliament.
Any conflict settlement, he vows, must be peaceful.
Opposed to Patarkatsishvili from the beginning
Maisashvili joined the opposition coalition in November rallies in Tbilisi, when opposition campaigners decided to escalate their demands to Mikheil Saakashvili's resignation.
Despite his participation in the anti-government rally, he has not taken the same virulently anti-Saakashvili stance as most of the other opposition candidates. He was also the only candidate to strongly oppose business tycoon and one-time candidate Badri Patarkatsishvili, who has withdrawn from the race after being accused of plotting a coup to follow the January 5 election.
Maisashvili said on November 30 that he would unhesitatingly support Saakashvili over Patarkatsishvili if the two men entered a run-off.
If the "oligarch" makes it into the presidency, Maisashvili said, Patarkatsishvili would try to monopolize industries within Georgia.
Maisashvili, speaking on some candidates' proposals to turn the country into a parliamentary republic, says he is not opposed to that form of government but prefers a strong presidency. The opposition coalition's insistence that the office of the presidency must be abolished or reduced to a ceremonial role, Maisashvili says, comes without details.
"They have no answers to concrete questions," he says of the nine-party opposition coalition backing Levan Gachechiladze. "They are not ready to be president."
There is little reason to expect, however, that Georgian voters consider Maisashvili ready to be president. Entering the race, he faced low name recognition and few of the long-standing political ties other candidates brought to the table. Most polls suggest he has single-digit support.
Maisashvili has not ruled out protesting the election if vote fraud is suspected, but has said he would be the first to congratulate the winner of an election which is clearly free and fair.