Opposition announce new protests, confront CEC chair over election results
By Eter Tsotniashvili
Wednesday, January 8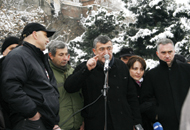 Main opposition candidate Levan Gachechiladze loudly confronted the Central Elections Commission (CEC) chair yesterday, accusing him of rigging the vote count for January 5's presidential election.
"You falsified this election, you are falsifying this election, and you're guilty before all of Georgia…and you will be punished for it," Gachechiladze shouted at Levan Tarkhnishvili, with cameras and journalists looking on.
Calling the CEC chair a "swindler," Gachechiladze claimed that his campaign has protocols, signed by ruling party-appointed election precinct commissioners, which show he won the election.
Above the din of back-and-forth shouts in the crowded room, Tarkhnishvili told journalists that the opposition is trying to pressure the CEC by foregoing the procedural methods of registering complaints.
The CEC is continuing its count of the votes. Saakashvili now stands at 52.1 percent with around 500 precincts remaining to be counted. Tarkhnishvili has said the remaining votes would not be enough to push Saakashvili below 50 percent, the threshold he needed to clear for a victory without a runoff.
A representative of the opposition coalition backing Gachechiladze said they can show media evidence of vote fraud, but failed to provide any by late last night.
Also yesterday, Gachechiladze accused Georgian television stations of exerting "media terror" against his campaign by limiting their coverage of the opposition's statements. He said he would go on hunger strike in front of the state-owned public broadcaster's building today, demanding an election runoff and the chance to speak live on Georgian television.
"We [are prevented from] delivering our message to millions of our voters. The three television stations are carrying out direct media terror against the Gachechiladze campaign," he said, in a statement aired by Georgian television networks.
Addressing Mikheil Saakashvili and acting president Nino Burjanadze, an impassioned Gachechiladze said, "You will have to kill me to stop me."
Speaking to the
Messenger
, opposition coalition member Gia Tortladze echoed Gachechiladze's complaints.
"[Georgian TV] journalists film us, take interviews, but they don't show it on TV. We can't speak to our people," Tortladze said.
The nine-party opposition coalition is calling for a mass protest on January 13, the day the CEC is to announce its final official results.
They are joined by pro-opposition NGO Equality Institute, which announced the start of a "peaceful civil disobedience" campaign. The NGO is demanding both a recount of the votes and a runoff between Gachechiladze and Saakashvili.
And despite the well-publicized handshake between Saakashvili and Gachechiladze before Orthodox Christmas services at Sameba Church, there is not yet any talk of reconciliation or political compromise, from either the opposition or the government.
Ruling party MP Levan Bezhashvili, chair of the Legal Affairs Committee, said that the opposition's actions look like part of Badri Patarkatsishvili's alleged coup plan. Patarkatsishvili, a billionaire presidential candidate, was secretly taped by an Interior Ministry agent apparently detailing plans for a violent post-election coup; one of the steps taken would be to publicly portray the election as rigged.
"They are upset because the CEC's verdict is the same as that of international observers," Bezhashvili said. "But this is groundless, because the CEC is still working and the final results haven't been released… From this, we can say that [Patarkatsishvili's] scenario is being developed."