In dead of winter, will disappointed voters join street protests?
By Anna Kamushadze
Wednesday, January 9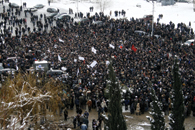 The Central Election Commission is days away from officially confirming incumbent Mikheil Saakashvili's reelection, while the opposition decries the vote count as rigged. The main opposition coalition behind Levan Gachechiladze, who took a quarter of the vote in the January 5 election, promise mass public protests—but how much support will they have?
While many voters say the election was far from perfect, far fewer seem prepared to come onto icy city streets in protest.
"The opposition should concede its defeat and stop these protests and hungers strikes," said Tiniko, a Tbilisi resident. "The people are too tired. Sometimes I think these candidates never think about the people, just about themselves and their fight for power and offices."
There is a significant core of Georgian voters that remains confident the election was rigged in ways international observers either ignored or did not catch. An American polling firm, commissioned by the Saakashvili campaign, carried out a survey in December which found that 30 percent of Georgians predicted the election would not be free or fair.
Some of those frustrated voters now swap stories of inaccurate voter lists and cases of repeat voting.
Keti, who was an election observer, said she personally witnessed "serious" irregularities.
"Some people came with their fingers already marked wanting to vote again—and I won't even start on the dead people and unknown voters on the registration list. Complaints were written, but they weren't taken into consideration," she said.
The opposition will be taking their case to court, but Georgia's judges are widely criticized for incompetence and bias. Presumably pessimistic about their chances for legal victories, the nine-party opposition coalition is calling for a mass protest on January 13, the date the Central Election Commission is due to announce the final results.
Gela, from Kutaisi, says he thinks the election was rigged. He will join the protest.
"If the opposition needs support, every Georgian must come out to defend the country's future," he declared.
But the weather is cold, and Georgians have had nearly three months of protests, political brinksmanship and civil unrest. Many say they just want to leave it behind—and the opposition is not likely to win over new supporters with its recent actions, which include barging into the Central Election Commission's offices to accuse its chairman of falsifying the vote.
"Every international organization said these elections went within legal frameworks and in line with democratic standards. I don't think it was of democratic standards when Gachechiladze rushed into the CEC," Marina, a Chiatura voter, said.