Needed amendments held up by parliamentary wrangling
By Eter Tsotniashvili
Thursday, February 21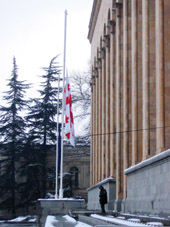 Constitutional amendments which would reschedule the next parliamentary elections for spring went nowhere in the February 19 parliament session, after the ruling party claimed it couldn't round up enough votes to pass the amendments and accused the boycotting opposition of holding them up.
Speaker of Parliament Nino Burjanadze warned the opposition—and an electorate that voted nearly 80 percent for earlier elections—that the parliamentary polls would be delayed until June if they don't end their boycott to help pass the needed constitutional amendments.
But parliamentary opposition leaders say the ruling party can easily muster the votes for a constitutional amendment without them, and vow to continue their boycott until the government meets three key demands.
On February 19, parliament was considering constitutional amendments which would reschedule the next elections for spring, lower the vote threshold for parliamentary representation from seven to five percent and change the controversial majoritarian electoral system, through which one-third of MPs will be elected this year, to one of regional proportion.
Giorgi Pataraia, a spokesman for the ruling National Movement's parliamentary faction, said the ruling party currently counts 125 MPs in its faction, plus another 19 majoritarian MPs and 10 MPs from the Regions of Georgia faction loyal to the ruling party.
That leaves the government three MPs short of the 157 supermajority needed to pass constitutional amendments.
But opposition leaders say Pataraia is undercounting government support in an attempt to hold up the amendments and force the boycotting opposition MPs back into parliament by pinning the blame on them.
"It's easy arithmetic," says Conservative MP Kakha Kukava, who counts 55 opposition-voting MPs among the 235-seat parliament, leave the ruling party an overwhelming 180 majority by his count of party ranks.
Since the current parliament was elected in 2004, the government has passed repeated constitutional amendments without trouble, despite some opposition votes against.
MP Vakhtang Balavadze, a ruling party representative, dismissed the opposition's charges as illogical. The government is trying to pass constitutional amendments the opposition want, he said, but they refuse to add the three votes needed to for them to pass.
New Rights MP Mamuka Katsitadze says the parliamentary opposition won't blink.
"It will be better for the government to first decide on those three demands we presented in our ultimatum," Katsitadze told journalists. "These constitutional changes are not urgent at the moment, and it will be okay if we consider them as late as the middle of March."