In uneasy position, Georgian troops protect Kosovo's independence
By Ana Datiashvili
Thursday, February 21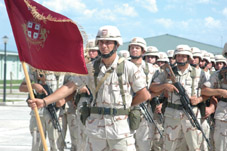 Georgian troops remain in Kosovo after it declared independence on February 17, tasked with keeping the peace in a country Tbilisi does not recognize.
Georgian peacekeepers were first deployed to the Balkans with a NATO mission in 1999 and 150 have served alongside a German brigade in the southern city of Prizren, close to the Albanian and Macedonian borders, since 2003.
"We are at the central base, which is in the center of Prizren, and our mission is to ensure security," a Georgian officer told the television station Rustavi 2 on February 19.
Georgian troops' main duties in the city consist of manning checkpoints and undertaking night patrols in the local area. With a fully stocked base complete with popular restaurant chains, most troops have little contact with the city itself.
Colonel Beridze Lasha of the 2nd Infantry Brigade confirmed that the next rotation planned for Georgian servicemen in Kosovo will take place in May, but was not authorized to say more.
Ministry of Defense spokeswoman Nana Intskirveli did not have answers for any question the paper put to her regarding Georgian troops in Kosovo.
However, when the
Messenger
suggested to ruling party MP Vakhtang Balavadze that Tbilisi appears to hold contradictory policies on Kosovo, by refusing to recognize it politically but assisting secession on the ground, he indicated that Georgian troops will not be stationed there much longer.
"Georgian troops are under a NATO mandate, so after this expires, our troops will be withdrawn from Kosovo," he said yesterday.
"Politically, we have already stated our position: that we are against Kosovo's independence," he added.