Anti-Semitic attack on Batumi gravesites
By Eter Tsotniashvili
Friday, May 2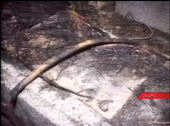 Vandals have struck the Jewish cemetery in the seaside town of Batumi, painting swastikas and burning kindling on the gravestones.
Cemetery administrators took the case to the police, but reportedly have no witnesses or suspects.
Israeli Ambassador to Georgia Shabtai Tsur said the incident was unprecedented and won't spoil relations.
"Nothing like this has ever happened during the time our people have lived in Georgia. I believe in the Georgian people, and believe this incident will not change anything in our relationship with Georgians," Tsur told reporters yesterday, adding that he hopes the vandals are caught and punished.
Georgian human rights ombudsman Sozar Subari said it is the first incident of anti-Semitism he can recall in Georgia, and demanded police investigate swiftly and fully.
"If we close our eyes today and don't pay attention to what has happened, then tomorrow we will have worse problems," Subari commented after meeting with the Israeli ambassador.
Emil Krupnik, head of the Association of Georgian-Jewish Relations in Batumi, said he was shocked by the anti-Semitic vandalism.
"It is an astonishing incident," Krupnik said. "I have often heard of anti-Semitic actions in Russia or Ukraine, but I could never imagine the same thing happening on this merciful land."
He said ethnic Georgian locals were as distraught about the vandalism as the local Jewish community.
35-year-old Imeda Tsitsiashvili is a Georgian Jew, who says the act of desecration will not damage community relations.
"I was born here, I have lots of Georgian friends, but I have never felt [like an outsider]. What happened was anti-Semitism and those people who did it want confrontation between our nations, but I'm sure it will never happen, as we have had a deep friendship for aeons," he said.
Well-known football commentator Jamlet Khukhashvili, also Jewish, said the incident was a provocation which should be ignored.
Batumi newspaper
Batumelebi
reported that the vandalism occurred nearly a week ago, but was only now reported.