Russia's extra peacekeepers hit the ground in Abkhazia
By Messenger Staff
Friday, May 2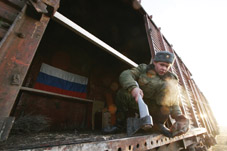 Russian troops arrived in Abkhazia yesterday to bolster the country's peacekeeping force in the breakaway region, while Tbilisi decried the move as illegal.
Moscow and de facto separatist authorities maintained that the increase in peacekeeping troops—which Russia says is a response to an alleged military build-up by Georgia—will contribute to stability in the region.
However, Shota Malashkhia, who chairs the parliamentary temporary commission on territorial integrity, said yesterday that the "illegal" deployment would only aggravate the situation.
The same day Georgia's head of peacekeeping operations, Mamuka Kurashvili, said the deployment was "uncontrolled," monitored neither by Georgia nor international organizations.
"There's no information on what weapons are being sent from Russia to Abkhazia under the guise of this so-called peacekeeping operation," Kurashvili said.
Prime Minister Lado Gurgenidze also said the move was unilateral and illegal, and emphasized that the government was working with international organizations to stop Russia's actions.
In Brussels, Russian ambassador to NATO Dmitry Rogozin called for an end to escalating rhetoric over the situation and downplayed suggestions that a conflict is brewing between Russia and Georgia.
He was speaking shortly after a session of the Russia-NATO council on April 30 that discussed, among other things, developments in the breakaway region of Abkhazia.
The Russian official hit out at NATO's recent statement that the Russian move to increase peacekeepers has increased tension in Abkhazia, describing it as contradicting the alliance's own logic.
"NATO's [peacekeeping force] in Kosovo has always increased its strength where tensions escalate," Rogozin said.
Russia says the increase of peacekeepers does not violate any treaty, as it will not exceed the maximum of 3 000 troops set by a 1994 agreement.
Yesterday State Minister for Reintegration Issues Temur Iakobashvili dismissed Georgian news media reports that much a much higher figure of Russian troops had been deployed.
"We will count them. The reports of 6 000 [Russian peacekeepers] are lies. They can barely muster 700 people, let alone more," he said, adding, "There will not be a war."
However, leading television station Rustavi 2 continued to report that as many as 14 000 Russian and Cossack troops had been deployed in the region, with more Chechens to come, and alleged that the peacekeepers are plundering local villages.