Rice calls for high-level talks on Georgian conflicts
By Messenger Staff
Friday, July 11 [Updated July 13]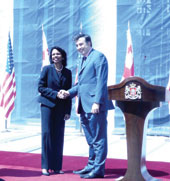 US Secretary of State Condoleezza Rice called for an end to the violence in Georgia's two breakaway regions and high-level talks on the conflicts as she finished a visit to Tbilisi on July 10.
Underscoring the level of tension surrounding her visit, Russia acknowledged yesterday that it flew warplanes over secessionist South Ossetia the day before her arrival. Georgia's top official for conflict issues described the situation as "low-intensity conflict."
A series of attacks in separatist Abkhazia and South Ossetia have left at least seven dead and injured many more in the last two weeks.
Repeating comments made on her way to Georgia, Rice said Russia bears some blame for escalating tensions in the region: "Some of the activities that Russia has engaged in have been activities that have not promoted a peaceful resolution."
Russia accuses Georgia of purposefully stoking violence in Abkhazia and South Ossetia to lend credence to its position that a new peacekeeping format is needed in the breakaway regions, where Tbilisi says Russian peacekeepers are supporting the separatists.
A July 9 statement from the Russian Foreign Ministry also suggested Washington was aware of Georgian plots and looking the other way.
At a joint press conference with Georgian President Mikheil Saakashvili, Rice said her exhortations for peaceful behavior were meant for all parties.
"The violence needs to stop. And whoever is perpetrating it—and I've mentioned this to the president—there should not be violence," she said.
Rice said resolution of the conflicts should be peaceful and based on the territorial integrity of Georgia, which Washington recognizes as including secessionist-controlled Abkhazia and South Ossetia, and she declared a push to "elevate the issue" in international talks.
"I am going to call for discussions to be held at a higher level, at least at the level of political directors and perhaps beyond that, because this is a serious situation," she said.
A senior US State Department official later told reporters that US, German, British, French, Russian and Georgian political directors could meet this month, AFP reported.
Secretary Rice called for direct contact between the Georgians and Abkhaz, who severed all ties with Tbilisi after a string of bombings in the breakaway region which separatist officials blame on Georgia.
Abkhaz de facto deputy foreign minister Maxim Gvinjia said his administration is skeptical of American intentions.
"When [Georgians] say that Russia is not objective in this conflict, we think that the USA is even far more nonobjective than Russia," he told the Messenger. "Rice talked about respect for the [territorial] integrity of Georgia. If the interests of the USA demand it, they will change their opinion, like they did in Kosovo."
At yesterday's press conference, President Saakashvili said relations between the West and Russia, including over Kosovo, are prompting Moscow's moves in the South Caucasus. He spelled out Russian motivations in giving what he called "the most blatant challenge you could give to…modern European order."
"This is their reaction to NATO expansion plans. This is their reaction to the independence of Kosovo. And this is their reaction to increasing U.S. presence here in the region. Looks like some people have not noticed that the Cold War is over," the president said.
The Kremlin has described NATO membership for Georgia and Ukraine as a "red line" in relations with Washington. Both countries were told at an April NATO summit that they will one day join the alliance, and are pushing for a membership action plan at a December meeting of foreign ministers from NATO member states.
In a somewhat nervy exchange with Rice, President Saakashvili spoke of that upcoming meeting, telling the US secretary general that he "understood you are going to give a tough fight for us in December."
"Always, Mr. President," Rice replied. "We always fight for our friends."
Saakashvili came back with: "I think it should be an ultimate victory of Bush Administration if Georgia and Ukraine can get into MAP by the end of this administration."
As he finished his remark, Saakashvilil exchanged a puckish grin with a Georgian official seated in the front row of the audience.
Secretary Rice, not taking the bait, said the administration "will work on it."
But she added that a NATO declaration in April "clearly said that Georgia's future is in NATO."
Rice's affirmation of US support for eventual Georgian membership in NATO led Russian Foreign Minister Sergey Lavrov to warn that bringing Georgia closer to NATO membership would run roughshod over attempts to make peace in the conflict zones.
"We have heard that US Secretary of State Condoleezza Rice was talking about making NATO membership documents available to Georgia, and how this would resolve the Abkhaz and the South Ossetian conflicts," Lavrov said in Moscow while meeting with the Abkhaz separatist leader.
"This will undermine the settlement of the conflicts."
While in Tbilisi, the US secretary of state also met with opposition politicians. In her remarks, she touched on domestic developments by emphasizing Georgia's need for "a strong parliament, strong independent media, a strong civil society and an independent judiciary"—all areas singled out for concern by local democracy advocates.
Rice left yesterday, ending a brief European tour which included the signing of a missile defense agreement in Prague which Russia opposed.