Two killed in conflict zones in last week
By Messenger
Monday, July 28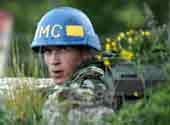 Two men have been killed in separate incidents in Georgia's breakaway regions in the past few days, underscoring the dangers there even as international diplomatic efforts seek to calm the region.
26-year-old Valeriy Dzhioyev was killed when the Niva jeep he was in blew up near Tskhinvali on July 25 in what separatist authorities say was a targeted attack.
"We have reason to assume that a [fake] car purchase was used by Georgian special services to lure [Dzhioyev] to a location where radio-controlled explosive devices had been planted in advance," the press service of the de facto South Ossetian prosecutor's office said.
Tbilisi routinely denies responsibility for attacks in separatist South Ossetia.
Yesterday in a southern district of Abkhazia, Georgia's other breakaway region, one man died after his family reportedly triggered a mine or shell.
Malkhaz Pertaya, 32, died yesterday morning from the injuries he sustained from the explosion in the ethnic Georgian-populated district of Gali.
The incident occurred on the evening of July 27 in the village of Tagiloni, close to a Russian peacekeeping post, Georgian television company Rustavi 2 reported. Three others were injured in the explosion, including two young children.