New banknotes issued
By M. Alkhazashvili
Translated by Davit Kipiani
Tuesday, July 29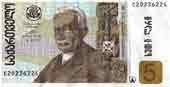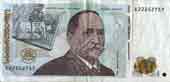 The National Bank of Georgia (NBG) issued a new style of GEL 5 and GEL 20 banknotes on July 21.
"The new notes only have a different series date and signatures of the Georgian National Bank president and Finance Minister," a statement from the NBG reads.
The GEL 5 banknotes carry the portrait of the Georgian historian Ivane Javakhishvili (1876–1940) and a portrait of Ilia Chavchavadze (1837–1907) is on GEL 20 notes.