Ombudsman slams Government and opposition for pressure on media
By Mzia Kupunia
Monday, November 17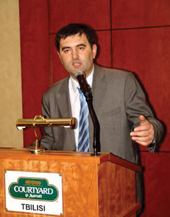 Sozar Subari, the Georgian Public Defender slammed the authorities on Friday for exercising total control over nationwide television stations and putting pressure on journalists. He called on the Georgian Government to amend the law on broadcasting and provide additional mechanisms to ensure transparency of ownership.
While presenting his report on media freedom during the first half of 2008, a presentation attended by Georgian opposition members, NGOs and journalists, the Ombudsman said that, "Government officials are deciding which news stories should be broadcast and when." The report, which is the part of the Ombudsman's general report on human rights in the first half of 2008, highlighted the main characteristics of the media since the Rose Revolution. It says that a law on freedom of speech has been adopted, which is a positive move, but the reality is absolutely different from what the law requires.
The Georgian Public Defender cited the reports of authoritative international organizations Freedom House and Reporters Without Borders. Subari said that their reports noted "the situation of the media in Georgia has significantly worsened." According to the Public Defender's report, licensing has become an additional tool in hands of the Government for putting pressure on the mass media. He quoted the example of
Maestro
TV, criticizing the Georgian National Communication Commission for being a "body fulfilling political instructions" from the authorities.
Another example presented in the report relates to
Imedi
TV. The Georgian Public Defender said the crackdown on a private TV company was illegal and that everything that happened at the TV station on November 7 gave grounds for raising the question of the responsibility of Georgian Interior Ministry for these events.
Subari touched upon the issue of the Georgian Public Broadcaster, hailing its coverage of the election period, but his report notes that after the Parliamentary Elections on May 21 political debates were suspended and unbalanced news appeared on air again. According to Sozar Subari,
Rustavi 2
TV and the Georgian Public Broadcaster were just vehicles of propaganda during the Russian-Georgian conflict.
Subari also criticized the Georgian opposition, along with the Government, for hindering the work of journalists and threatening their security. The report says that journalists have become the victims of attacks by opposition members as well as pro-Government groups. The Ombudsman noted that the main subjects of opposition attacks have been journalists from
Rustavi 2
and
Mze
. The report notes that it is the right of any person or party to decide whether or not to cooperate with any media outlet, however "no one has the right to hinder a journalist in the fulfilment of his or her professional duties."
The Georgian Public Defender has already sent his report on human rights to Parliament, which is due to discuss it in a few days.