MAP not necessary
By Temuri Kiguradze
Friday, November 28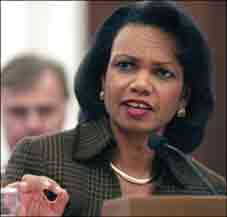 Georgia and Ukraine may not need a Membership Action Plan (MAP) to enter NATO, said US Secretary of State Condoleezza Rice on November 26.
Talking to journalists in Washington, Rice stated that NATO may find another way to allow Georgia and Ukraine to join the block, avoiding the MAP requirement. "There does not need at this point in time to be any discussion of MAP," she said. However Rice pointed out that this doesn't mean that the USA has changed its policy towards the two countries: she recalled the Bucharest NATO summit of April 2008 where it was announced that Georgia and Ukraine "will become members of NATO," without an exact date being given.
"The point of view of the United States was stated at Bucharest, that we think – thought - that MAP is one way to prepare countries for membership. But there are other ways to prepare countries for membership. I would note that Poland and the Czech Republic never had MAPs, for instance. And we do have ... the Georgia-NATO and the Ukraine-NATO Commissions. Intensifying our work within them, intensifying our contacts within them is, we believe, a good alternative and will send a very strong signal that, while these countries are not ready for membership and still have many, many standards that they would have to meet, we will remain true to the Bucharest Declaration that they will, at some point in the future, be members of NATO," said the Secretary of State.
She also strongly highlighted that at this time "Georgia and Ukraine are not ready for membership." She didn't give details of a mechanism which could be used to integrate the countries in NATO avoiding MAP, but stated that "the NATO-Georgia Commission and the NATO-Ukraine Commission can be the bodies with which we intensify our dialogue and our activities with Georgia and NATO. And therefore, there does not need at this point in time to be any discussion of MAP. And so this is the nature of this. It really is just a question of how we would execute the Bucharest decision. It is not a change in policy."
"There is a British idea – and I want to emphasize, not an American idea, a British idea – that we look at different ways to fulfill the terms of the Bucharest Declaration," she added.
This statement was made before the summit of NATO countries' Foreign Ministers in Brussels, which will be held on December 2 and 3. The Georgian and Ukrainian delegations expect concrete decisions from this meeting. Meanwhile, in Tbilisi, the Georgian State Minister for Reintegration, Temur Iakobashvili, commented on the Secretary of State's statement by saying that "at this point MAP is no longer relevant. It was relevant in April. It seems that new mechanisms will be developed and we will certainly become a NATO member state." Georgian political expert Zurab Abashidze said that he doesn't expect anything sensational from the NATO summit in December. "Sure, NATO will propose to Georgia and Ukraine some kind of a partnership programme, but I don't think anything concrete will be decided there."
On November 18 Russian Defence Minister Anatoly Serdukov stated that Russia is "concerned about the Georgian leadership's efforts to increase its military potential and to drag the country into NATO. This action can provoke more serious conflict than we saw in August." This statement was strongly condemned by the Georgian Government, which stated on the same day that "Russia does not hesitate not only to threaten Georgia, but also Europe."