Tbilisi finds out about AIDS
By Sopo Datishvili
Monday, December 1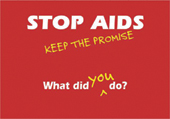 December 1 is World AIDS Day. Georgia has been commemorating this since 1991. As part of this year's commemoration, from December 1 to 5, everyone will be able to find out about AIDS at the Tbilisi AIDS Centre.
According to AIDS Centre doctor Maia Tsintsadze, the number of infected people in Georgia currently is 1,825, 1,372 male and 453 female. Most of them are under forty (between 35 and 39). From 1989 until now 385 people have died of AIDS in Georgia.
The AIDS Centre says that 461 people are officially under medical treatment for the condition at present. In 2007 302 new cases of AIDS infection were detected, so far in 2008 this number has risen to 325. However, as Maia Tsintsadze says, there are some cases of AIDS infection which aren't detected yet so the number of infected people is more than the official data indicates. The majority of AIDS cases are observed in Tbilisi, Samegrelo and Adjara record the next highest numbers of cases.
There can be two kinds of AIDS-infected people: infection carrier and infected. The number of infected people prevails over infection carriers in Georgia at present.
Public Defender Sozar Subari organised a round table discussion on this issue on December 1. Representatives of different non-Governmental organizations which have signed the memorandum on the fight against AIDS and support for infected people attended. Several street information displays about the AIDS infection were also erected. "Our legislation needs to be brushed up in this respect. This will help us in AIDS prevention. The next very important issue is to raise public awareness of this subject," Subari said.
AIDS infection is a serious problem in Georgian prisons as well as in the general population. Chair of the Non-Governmental Organization "Former Political Prisoners for Human Right," Nana Kakabadze, told
The Messenger
that most of the AIDS cases are ignored by the Government and prison authorities. "Information about the number of infected prisoners is kept secret. We know about several cases but these people had been infected before they were arrested," she added. Kakabadze claims that the HIV/AIDS infection is also detected among women prisoners. "They even started a hunger strike over this a few weeks ago but were made to stop it due to the forthcoming amnesty," Kakabadze said.
World AIDS Day has been commemorated throughout the world since 1988. The number HIV/AIDS infected people in the world is more than 40 million.18 million are female and 3 million children under 15. More than 25 million people have died of the infection.