No threat of large-scale war, says President
By Etuna Tsotniashvili
Friday, December 19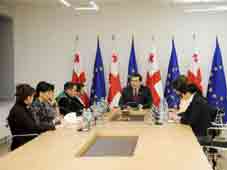 "There is no threat of some kind of large-scale war, because Russia has serious internal problems now," Georgian President Mikheil Saakashvili stated while meeting journalists at a televised press conference on December 17. However he has not excluded Russia trying to involve Georgia in provocations.
Saakashvili said there is an attempt at intimidation in the country but the Georgian Government will not fulfil any ultimatums presented to it. Saakashvili gave as an example of such intimidation the incident in 90s when Shevardnadze's Government was forced to join the CIS. He added that in spite of the fact Shevardnadze has fulfilled all the terms of the ultimatum presented to him, he could not return the breakaway territories to Georgian control.
Saakashvili commented on the return of Russian troops to the village of Perevi. He responded to opposition comments that the Georgian President's "irresponsible statements" caused Russia to retake the village. "There is some talk that the Russians retook Perevi because they did not like something in our internal politics. If we ever say that our actions should be formed by what the occupiers like or don't like, it is all over for us," Saakashvili said. He added that the withdrawal of Russian forces for a time was connected with the EU summit they returned as soon as the summit was over.
Saakashvili also talked about restoring diplomatic relations with Russia and stated that this could only happen if Moscow refuses to have diplomatic relations with the separatist regimes and abandons its plans to open embassies in Sokhumi and Tskhinvali. "Russia will not have diplomatic relations simultaneously with Tbilisi, Sokhumi and Tskhinvali," the President said. Saakashvili declared that the restoration of Georgia's territorial integrity depends on internal consolidation and the country's integration into influential international structures. Saakashvili said that if Georgia does not have internal stability and firm international support it cannot resolve its problems.
Saakashvili confirmed that Georgia will continue to integrate with NATO and cooperate with the USA. He also said that other options for ensuring the country's security were being discussed. "We will continue down the road towards Euro-Atlantic integration and no one should have any illusions about this," Saakashvili told journalists. He also touched on the recent NATO summit and said that Georgia had made progress and would join NATO with or without MAP. "What happened at the recent NATO summit was very important, because the issue of MAP was put aside as it was said that with MAP or without it, Georgia will join NATO. We therefore made a step towards NATO," he said.
The President also spoke about Georgia's relations with the US and stated that our country will have better relations with the new US administration. "I want to tell you that we have very close relations with the current U.S. administration and already very close ties with the incoming administration," he said. Saakashvili said that from January America will be stronger, because it will have a stronger President with "a stronger mandate and stronger positions in the world."
Saakashvili also promised to have some surprises regarding security guarantees. "Many interesting surprises are anticipated by us and very interesting developments are ahead; we know exactly what we are doing; we are working on very interesting things and our plans will become clear to everyone in the next weeks and months," he said.