ProCredit gets credit
By Messenger Staff
Friday, December 19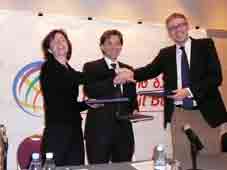 ProCredit Bank Georgia has received a USD 47.5 million credit line from German development bank KfW and Austrian development bank OeEB. The line will be open from 2009 and will reach maturity in five years time.
This is the biggest credit ProCredit bank Georgia has ever received. It will be utilized to finance very small, small and medium-sized enterprises and will considerably enlarge the credit portfolio of the bank which will issue loans using these funds from the beginning of 2009. Answering The Messengerís question, Philip Pott, Director General of ProCredit Bank Georgia, said that the interest rate on the new loans would start from 19% and depend on the amount and other details of the loans.
The agreement to bestow the credit line was signed by the representative of OeEB, board member Andrea Hagmann, First Vice President for Europe and the Caucasus of KfW Roland Siller and Philip Pott. Answering questions, Siller stated that KfW is already issuing money to Georgia under different projects. He highlighted that he considers ProCredit Bank a reliable partner which has shown resistance to different pressures created by the August events and world crisis in general. Andrea Hagman underlined that investing in Georgia is a priority for her bank, which is sure the Georgian banking sector will maintain stability despite various challenges.
Currently ProCredit Bank employs more than 1,800 locals, making it one of the biggest employers in Georgia. By the end of the year two more ProCredit Bank branches will have been opened and more will follow next year.