Peoples' Convention formed
Tuesday, December 23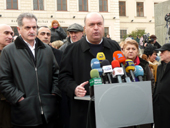 An initiative group consisting of the Chairman of the first post-independence Georgian Parliament, Akaki Asatiani, former National Movement MP Guguli Magradze, the son of the first President of Georgia Konstantine Gamsakhurdia and other public figures have announced the initiative to create an independent body called People's Convention. This non-political organization will unite representatives of villages, districts, towns, cities, communities etc and delegate them to meet and discuss problems of vital importance to the country.
The initiative group highlighted that the country and people have a personal responsibility, and for the sake of future generations the Convention urges them to categorically declare that the existence of the nation is at stake. The entire population should express its will to prevent Georgia's statehood from collapsing. The people must take the initiative for rescuing the country into their own hands.
The initiative group appealed to all citizens of Georgia who want to live in their homeland and in a democratic independent state to participate in organizing the People's Convention.
The press conference at which the formation of the People's Convention was announced was held on Rustaveli Avenue next to the Parliament building, where exactly 17 years ago, on December 22, 1991, the shooting started which eventually led to legally elected President Zviad Gamsakhurdia fleeing the country. The initiative group thinks that this event was the start of the country's instability, civil unrest and criminal anarchy and triggered the collapse of its statehood.