Hole in the wall gang captured
By Inna Egieva
Tuesday, December 23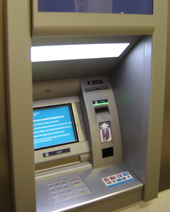 On Sunday December 21 Tbilisi General Police Department arrested six men after an incident at 84 Ketevan Tsamebuli Street, in which people tried to steal money from a TBC Bank cash dispenser in a supermarket.
48 year old Mamuka Chikviladze, 30 year old Entazi Meshveliani, 33 year old Bakar Meshveliani, 44 year old Shmagi Gelovani, 38 year old Gocha Sajaia and 26 year old Badri Esadze were all known to the police for committing previous crimes and had been arrested several times prior to this incident.
The sextet have a history of raiding cash dispensers in other parts of the city. On July 31 2008 the gang stole GEL 112 000 and USD 35 000 from the TBC cash dispenser in Tskneti, on Rustaveli 8. On October 9 2008 the Tao Privatbank dispenser at Vazha-Pshaela 47 was relieved of USD 10,000 and GEL 28,000. On November 16 2008 a Bank of Georgia dispenser was hit at Tamarashvili 3, GEL 68,000 and USD 30,000 being taken. The gang's most recent robbery took place on December 1 2008 on Melikishvili Avenue, at which GEL 68,000 and USD 31,000 was taken.
Tbilisi General Police Department is investigating the incident.