Russia vetoes prolongation of OSCE mission in Georgia
By Temuri Kiguradze
Tuesday, December 23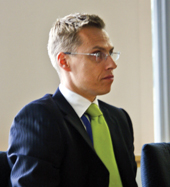 The OSCE mission in Georgia will not be extended beyond 2009 January 1st. Russian representative have vetoed the proposal to prolong the mission.
"I deeply regret this," Finnish Foreign Minister Alexander Stubb, outgoing OSCE Chairman-in-Office, said on December 22. "Finland has put a lot of effort into finding a solution. The OSCE still has much work to do in the region. Despite the decision today, I hope that negotiations on future OSCE activities in Georgia can be continued next year."
The reason for Russia's decision was disagreement over the mandate of the mission, which considers Georgian breakaway regions Abkhazia and South Ossetia part of Georgia. Russian diplomats insisted on a separate mandate for the OSCE presence in South Ossetia, independent of the Tbilisi office. Despite the fact Finland, as OSCE chair country, proposed to divide the headquarters of the mission between South Ossetia and Tbilisi, Moscow still voted against the project. "The field offices would have been directed by a Special Representative of the Chairman-in-Office, with headquarters in Vienna," OSCE said in a press release. "As an alternative, Finland proposed that the current mandate be prolonged by three months to allow more time for negotiations."
Victor Dolidze, the representative of Georgia at the OSCE, said that Russia had even rejected a technical three-month extension of the mission's mandate. "Now Russia states that there is no need for a continuation of the OSCE mission in Georgia after December 31," Dolidze said. "According to Russia's decision on the recognition of the independence of Abkhazia and South Ossetia, this [the continuation of the OSCE mission in Georgia] is illegal," said Russia's OSCE Ambassador Anvar Azimov on December 22.
"Russia did everything to remove one more international [organization's] mandate from Georgia," Grigol Vashadze, the Georgian Foreign Minister, said. He added that this step "is aimed at leaving as few international witnesses as possible to those illegal actions which are taking place on the occupied territories and the thousands of cases of human rights violations."
The OSCE Mission in Georgia, which currently has up to 200 staff, was established with headquarters in Tbilisi back in 1992 with an initial mandate to promote the negotiation process between the Georgian and South Ossetian sides. The mandate was later expanded and now also has human rights, freedom of the media and economic and environmental dimensions. OSCE observers worked in South Ossetia during and after the August conflict.