Opposition parties slam planned amendments to Constitution
By Mzia Kupunia
Thursday, January 22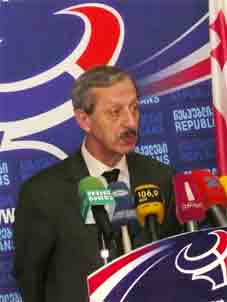 The Republicans and New Rights alliance has criticized the constitutional amendments proposed by the President last December, calling them "yet another political farce" staged by the Georgian authorities.
The representatives of the two opposition parties doubt that the purpose of the draft law, which states that "the document's aim is increase the rights of the Georgian Parliament, effectively balance the rights of the President and Parliament and increase the responsibility of the Georgian Government before Parliament," is what it pretends to be. One of the leaders of the Republican Party and a co-author of the Georgian Constitution of 1995, Vakhtang Khmaladze, has said that the Government is merely trying to "mislead society." Speaking to journalists at a press conference in the Republican Party's office on Wednesday, Khmaladze accused officials of "irresponsible behaviour with the country's main judicial document."
Khmaladze claimed that if the amendments are adopted the President's influence on political processes will significantly increase. To prove his point Khmaladze quoted several clauses of the draft law. .
Khmaladze also pointed out that although under the draft amendments it becomes easier for Parliament to declare its loss of confidence in the Government, the rules about actually dismissing it remain unchanged. According to Khmaladze this amendment does not give anything to Parliament, as the President's right not to dismiss the Government after the first vote of no confidence remains unaffected.
Georgian officials deny the allegations of the opposition representatives. The Chairman of the Parliamentary Judicial Committee, Pavle Kublashvili, told journalists they were "groundless". He said the allegations were the product of a wish by the Republican and New Rights alliance to make "loud statements."
Kublashvili said that it is clearly outlined in the proposed constitutional amendments that the President has the authority to dismiss Parliament only in the specific instances defined by the Constitution. He noted that the only change envisaged by the amendments is the possibility of holding a referendum if the President has already dismissed Parliament once during his term. "Thus, the rights of the President over Parliament are being decreased by the amendments and the accusations of the Republican Party lack any grounds," Kublashvili stated.
The Republicans and New Rights have said they will present their views and the kind of amendments of the Constitution they would like to see in the next few days.