GIPA sets up Russian studies centre
By Messenger staff
Thursday, January 29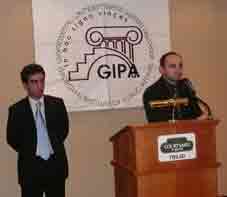 The Georgian Institute of Public Affairs has established the Russia-Georgia Conflict Research Centre. This was launched in a ceremony on January 27 at the Courtyard Marriott hotel in Tbilisi.
Russia's invasion of Georgia in August 2008 clearly demonstrated the necessity of establishing such an institution as the war manifested the lack of deep knowledge and understanding of Russian politics in Georgia. The academic disputes, media coverage, political comments and so on which occurred at that time showed that there is no single entity in Georgia which is involved in comprehensive studies of our northern neighbour. Neither in politics nor diplomacy nor even culture have systematic studies been undertaken, everything so far has relied on sporadic efforts and some private initiatives.
The GIPA centre will involve experts, scholars, analysts, politicians, culturologists and others and will further all aspects of Russian studies. The centre will study not only bilateral relations between the two countries but also developments in Russia itself. These studies will have applied practical value, because the centre hopes to assist policymakers, researchers and media outlets to satisfy the broad interest of the general public. It intends elaborate serious recommendations for state officials to consider.
Levan Tsutskiridze, the Rector of GIPA, Bakur Kvashilava, the head of the Russian-Georgian Conflict Research Centre and Dean of the School of Law and Politics at GIPA and Tornike Sharashenidze, the International Programmes Coordinator at GIPA, gave the audience details of the new research centre. French Ambassador Eric Fournier, Israeli Ambassador Itzhak Gerberg, Romanian Ambassador Dan Mihai Barliba and other representatives of the diplomatic corps attended the event, thus underlining the importance of establishing such a centre.
This project has been realised through the support of Open Society Georgia Foundation initial funding.