Bendukidze's gone!
By Messenger Staff
Thursday, February 12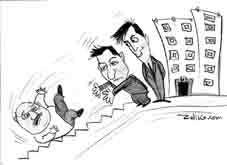 Kakha Bendukidze is one of the members of the administration most hated by the opposition, and at last he's gone. His dismissal is most likely part of President Saakashvili's current policy of removing from the leadership so-called unpopular faces.
Bendukidze was notorious for his bad language. He was continually swearing, calling his professional or political opponents nasty names, insulting and humiliating them. He was merciless, even to his colleagues. At a Cabinet session a couple of years ago, Bendukidze called Energy Minister Nika Gilauri, the current Prime Minister, an "imbecile." Commentators have speculated that since then Gilauri has held a grudge against him and discharged him to gain his revenge. However such a significant figure could not have been dislodged without the support and permission of the President.
Analysts today are starting to evaluate the results of his actions, either positive or negative, and guess what kind of economic policy the country will have without him. Bendukidze was a successful businessman in Russia, a millionaire, when he appeared in Tbilisi in 2004. His career here was very impressive: Minister for Economic Development, State Minister for Coordinating Reforms, Head of the Government Chancellery. During his career as a leading figure in the Georgian economy he took an extremely liberal position. His motto was the 'decentralization of the economy,' meaning to sell everything, privatize every single bit of state property.
Many opposition members accused him of showing undue aggression, trying to sell off each of Georgia's so-called strategic assets such as all the sea ports, the entire railway system, the whole gas supply network, forests, you just name it - everything. The main accusation was that directly or indirectly, but mostly in a hidden form disguised by other names, state properties were being placed in Russian hands. This is why opposition objected to him. It looked as if he was acting according to an unspoken idea that Georgia's political orientation would be pro-Western but its economy more Russian-oriented.
This idea presupposed that Russia would be satisfied with such involvement in Georgia's life. The August invasion showed that even if this was indeed the unannounced policy it did not yield any good for Georgia. Russia's attitude towards Georgia did not become more positive, but on the contrary, this policy increased its appetite for all things Georgian, thinks economic analyst Soso Tsiskarishvili.
Many critics of Bendukidze's economic policy remember him taking what was presumably the wrong step of repealing anti-monopoly legislation, which has given rise to monopolies in the country, introducing a labour code which has been roundly criticized by Western authorities and diminishing the role of the National Bank of Georgia. Many economic analysts in Georgia now blame Bendukidze and his policy for the dire situation the country's economy is in today. Maybe the opposition is exaggerating and not all the fault should lie on Bendukidze's shoulders but his manner of work was so irritating that apart from his own faults he has magnified the faults of other people as well.
It is evident that Saakashvili is trying to pick more flexible and less straightforward people for his new team, but the opposition which is hailing Bendukidze's discharge, says that though it is not unacceptable that he has gone there is a broader principle which should be applied. The man himself may have gone but many of the things he did need to be investigated thoroughly and necessary conclusions drawn. If need be questions should be answered and responsibilities identified and taken, though if those responsible are no longer in Government we will have to see how this works in practice.