EU fact finders come to Tbilisi
By Messenger Staff
Thursday, February 12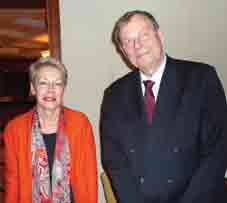 Members of the EU Fact Finding Commission, its Chair HE Heidi Tagliavini and Ambassador Uwe Schramm, have held a briefing for journalists at which they outlined details of the first steps they have taken.
Tagliavini informed the journalists that they had paid a very successful visit to Moscow where they met officials of the Ministries of Foreign Affairs and Defence, the Russian Duma and the Ombudsman; everywhere officials promised their cooperation and support in seeking to establish the facts of the August war. She also highlighted the very supportive conduct of Georgian officials.
Tagliavini mentioned that the Commissionís next visits would be to Sokhumi and Tskhinvali, and these had been scheduled. The Ambassador explained to journalists that the mission will carry out its activities under the mandate of the EU Council of Ministers, meaning that it sole purpose will be to find out the facts about what happened in August and how it developed. Events before the war will be studied as well as postwar developments.
The Commission has to produce its report by the end of July. Tagliavini herself was given the right to select the members of the Commission: they were not recommended by any interested party and are therefore objective. She selected a group of experts from different countries including high ranking statesmen from European countries, former Ministers and high officials.
The Commissionís findings will be submitted to EU officials and they will draw necessary conclusions. The document will also be submitted to the OSCE, UN, Moscow and Tbilisi.