More videotapes released
By Mzia Kupunia
Wednesday, March 25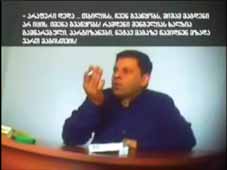 The Georgian Ministry of Internal Affairs (MIA) released a third collection of videotapes featuring opposition party members on Wednesday. The tapes allegedly show two members of the opposition Democratic Movement-United Georgia, led by former Parliament Speaker Nino Burjanadze, buying firearms. According to the MIA the first tape shows Zurab Avaliani and Davit Gograchadze talking in a restaurant in Batumi about a possible use of arms by the opposition and then going to purchase weapons together. The second tape shows Roin Bughashvili, a former Interior Ministry employee and also a member of the Democratic Movement-United Georgia, talking about ways of provoking civil war in Georgia and the possible profit the party will get out of the civil war.
Meanwhile, Tbilisi City Court has sentenced 6 members of the Democratic Movement-United Georgia to 2 months preliminary detention. Roin Bughashvili, Vakhtang Narsia, Giorgi Tsertsvadze, Zurab Avaliani and David Gograchadze have been charged with the illegal purchase of arms, while Mamuka Shengelia, the driver of Badri Bitsadze, the husband of Nino Burjanadze, is charged with buying firearms and purchasing narcotics. 5 of the detainees have denied the charges, but Giorgi Tsertsvadze has pleaded guilty, his advocate Inga Arakhamia told journalists on Wednesday. Tsertsvadze told the court that he bought arms from Dimitri Kinkladze, an Interior Ministry employee. According to Tsertsvadze, Bitsadze's driver Mamuka Shengelia referred him to Kinkladze.
Representatives of the Democratic Movement-United Georgia have said that Tsertsvadze is not a member of their party, and suggest he was probably "planted" in it by law enforcers. Burjanadze said she had seen the material released on Wednesday, which is being added to day by day, but called it "absolutely absurd." She denied that Bughashvili had any connection with the Samgori branch of the Democratic Movement –United Georgia. Former Chief of the Border Police Bitsadze also called the video materials released by the MIA a " dirty provocation." He said he does not know Bughashvili and has never worked with him. "All of this has been staged by people from the Interior Ministry, who possess arms themselves and want to drag some members of the Movement into their provocation," Bitsadze said on Wednesday.
Earlier leader of the party Nino Burjanadze said she is ready to cooperate with the investigation. She said the evidence provided by the MIA required independent examination. "I will be the first to demand the punishment of criminals, no matter which party they belong to, if firm evidence indicating their guilt is presented," Burjanadze said on March 24. Tbilisi City Court has also sentenced Malkhaz Gvelukashvili and Lasha Chkhenkeli, members of the National Movement for Saving Georgia who were detained on March 23 for allegedly plotting a terrorist act and a military coup, to two months of preliminary detention.
Georgian MPs say that the Government does not want to "politicize this issue." Ruling National Movement MP Pavle Kublashvili has said all politicians should try their best to respomd appropriately to criminal activity. "Stability is what Georgia needs most of all at this point," Kublashvili said. Fellow National Movement MP Petre Tsiskarishvili said the opposition parties should show responsibility when making statements. "The Government is doing and will do everything to ensure the security of peaceful, innocent people on April 9 or at any other demonstration or rally. But I should add that the opposition and any other political force take on a huge responsibility when they call for overthrowing the Government, because as we have already seen some people come out who are ready for any provocation and are endangering the country and society," Tsiskarishvili noted.
Georgian Parliament Speaker David Bakradze, who is visiting the USA, said that the best way out of the situation is a dialogue between the Government and the opposition. "The only way out of this situation is a dialogue. We have said many times before, and I repeat, that we are ready for dialogue; we are ready to take specific steps. One such step is creating a new election code jointly with the opposition. However, unfortunately the radical opposition is refusing to cooperate with us. We are ready to take some other steps too, which will serve for starting a dialogue," Bakradze said.
Some non-Parliamentary opposition politicians have linked the release of videotapes a few days before the demonstration planned on April 9 with the Patarkatsishvili case. Former Presidential candidate and leader of the joint opposition Levan Gachechiladze has said "Saakashvili's methods have grown old." He said that the Government acted "exactly the same way" when it released videotapes of the late business tycoon Badri Patarkatsishvili allegedly talking about a plan to conduct a military coup. The Ministry of Internal Affairs of Georgia has said it will provide more videotapes concerning the illegal purchase of arms on March 26.