Joint efforts to rescue Georgia through business
By Messenger Staff
Friday, May 22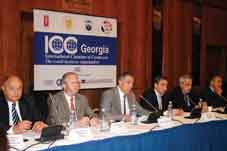 Nine business organizations, the Georgian Chamber of Commerce and Industry/ GCCI; International Chamber of Commerce/ ICC-Georgia; American Chamber of Commerce in Georgia; French Business Council/ FBC; Association of Oil Importers and Distributors/NIA; Association of Freight Forwarders of Georgia; Association of Banks of Georgia; International Association of Business and Parliament/ IABP and Israel-Georgia Chamber of Business signed yesterday a memorandum of understanding designed to facilitate the development of the economy in the country on market economy principles. Georgian PM Nika Gilauri attended the signing ceremony and expressed support for the consolidation of the business community, which is uniting its efforts for the welfare of the Georgian people. Chairman of ICC Georgia Fady Asly took the initiative of drawing up the document.
After the signing at the Sheraton Metechi Palace Hotel the PM conducted an interactive dialogue with the business community representatives. This was conducted under Chatham House rules.
Memorandum of Understanding
1. The Business Organizations listed below have agreed to found an informal alliance to further their goals and objectives to a greater degree and secure a stable business environment.
2. The Alliance will hold regular consultations with the Government of Georgia to ensure the proper implementation of successful reforms to revive and improve the business and investment climates and ensure stability in the country.
3. This Alliance is open to all business organisations whose goal is in harmony with that of the founders of this Alliance.
4. Any one of the founders has the right to veto the membership application of a new business organisation if the presence of this new organization might affect the overall performance of the Alliance.
5. The Alliance is Co-Chaired simultaneously by the Chairs of all its member organisations.
6. Members of the Alliance will meet whenever deemed necessary and exchange useful information on a regular basis.
7. Any member of the Alliance can withdraw from it at any time by notifying the other members in writing.