Mutiny suspect killed
By Messenger Staff
Friday, May 22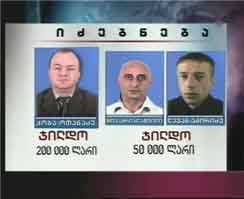 The Georgian Interior Ministry has confirmed the death of Gia Krialashvili, who had been named as one of the organisers of the mutiny at the Mukhrovani military base on May 5. During a special operation on May 20 two other former officers wanted in this connection were wounded.
"The Georgian Interior Ministry sought to arrest the wanted persons Gia Krialashvili, Koba Otanadze and Levan Amiridze. The wanted persons resisted the police and during an exchange of fire Krialashvili was killed and Otanadze and Amiridze were wounded. The injured were taken to hospital," says the special statement published on the Ministry's webpage on May 21. In a follow up statement the Georgian Interior Ministry announced that the wanted men had been planning to "hide on the territory occupied by Russian troops." According to doctors from Gudushauri clinic, where the wounded former officers were sent, their condition is serious but not life-threatening.
The Georgian opposition has strongly protested against the special operation conducted by the Interior Ministry. The incident was mentioned during the protest rally organized on the Tbilisi embankment. "The Government committed another bloody crime yesterday [on May 20]," stated David Gamkrelidze, leader of the New Rights Party. Another protest rally outside the Ministry of Defence was completely dedicated to Wednesday's special operation. "Those Generals, who survived four wars and took three wounds, have died by the bullets of their own soldiers. Of course those who committed this crime should be punished, but before that the case should be investigated and the suspects tried," stated Nino Burjanadze, the former Chair of Parliament who is now leader of the opposition Democratic Movement-United Georgia
The Georgian authorities announced that there had been a mutiny in the Mukhrovani tank battalion on May 5. After several hours of negotiations the rebellious officers agreed to surrender. 10 servicemen and 13 civilians were arrested on charges of taking part in the mutiny, but Krialashvili, Otanadze and Amiridze managed to escape from the scene. The Georgian Interior Ministry offered rewards for information about their location – GEL 200,000 (USD 120,000) for information about Otanadze and GEL 50,000 (USD 30,000) for Krialashvili and Amiridze. The Ministry stated that the goal of the mutiny was to spoil the international military exercises taking place at the Vaziani base and then take over the country with the support of Russian troops. The Georgian opposition has stated that the mutiny was staged in order to distract attention from the internal political crisis in Georgia.
Soon after the special operation had ended police released three relatives of Koba Otanadze, Jimsher Otanadze, his wife Gulo Zaridze and their son Giorgi Otanadze, 19. They had been detained at their home at about 3am local time on May 20 but no charges were brought against them, according to their lawyer.