Conference on drug related issues held in Tbilisi
By Messenger Staff
Friday, June 26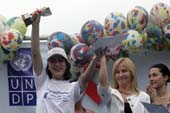 The European Union and the UN Development Programme (UNDP) held the now-traditional conference to commemorate the International Day Against Drug Abuse and Illicit Trafficking on June 26. The conference, held at Sheraton Metechi Palace hotel, was attended by representatives of the Georgian Government, diplomatic missions, human rights institutions, civil society representatives and international organisations. The conference was organised by the South Caucasus Anti-Drug Programme (SCAD), which UNDP runs on the basis of EUR 2 million funding acquired from the European Union.
The participants discussed the latest statistics on drug abuse and national responses to the drug situation in Georgia. The Head of Operations at the European Commission Delegation to Georgia, Martin Claucke, said "The European Union remains committed to supporting the South Caucasus countries in the gradual adoption of EU good practice in the field of drug policies."
UNDP Deputy Resident Representative in Georgia Inita Paulovica said that "together with the Government of Georgia we are advancing through a set of activities aimed to ensure safer and healthier communities by taking action in three priority areas: prevention, treatment and enforcement."
Jana Javakhishvili, a SCAD information/prevention expert, presented a survey on the drug situation in Georgia. She said that despite several achievements last year, there are still some problems remaining. "There are still points in the legislation which need to be harmonised with international conventions, but this package of legislative changes has still to be heard by Parliament," Javakhishvili noted, adding that "the drug-related mortality rate of male Georgian drug users is at least twice as high as the death rate of men who don't use drugs." Javakhishvili said that 26 drug-related deaths were registered in Georgia in 2008.
In the run-up to the International Day against Drug Abuse and Illicit Trafficking the SCAD programme initiated a public awareness campaign with the motto Manage Your Life: No Room For Drugs! The campaign raises awareness of the harms and risks of drug use and encourages healthy choices.
A public information campaign called Together for a Safe Future, aimed at children and young people, was held in Tbilisi on the same day to promote healthy lifestyles and provide information on HIV/AIDS prevention measures. This 5-week initiative is supported by the UN Development Programme in co-operation with the Children's Federation of Georgia, the Juvenco Youth Network and the Georgian Archers' Federation.
Over 300 children from 21 schools in Tbilisi took part in sports, games, quizzes and competitions. The campaign brought together schoolchildren of different ages, backgrounds and ethnic origins. Special focus was put on young people with physical disabilities and children with hearing, speech and vision problems were helped to take part in all the competitions alongside their peers. The campaign closed in the evening with the final sports event, the "Cheery Games", and a concert at the Locomotive Stadium in Tbilisi. All the winners received awards and souvenirs from Deputy Head of UNDP Inita Paulovica.