Georgians say no to torture
By Messenger Staff
Monday, June 29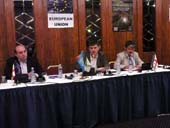 On June 26 the fifth conference "Together Against Torture" was held at the Sheraton Metechi Palace Hotel, organised by the Public Defender of Georgia and Empathy, the rehabilitation centre for victims of torture.
The conference was held as part of the RCT/EMPATHY programme "Strengthening the System of Rehabilitation of Torture Victims in Georgia" and under the terms of the Memorandum of Collaboration between Empathy and the Public Defender's Office and with the participation of non-Governmental and Governmental organisations, international organisations and the mass media. This programme is financially supported by the EU and UN Voluntary Fund for Victims of Torture and the IRCT Centre Support Grant.
Georgia joined 1987 UN Convention Against Torture and Other Cruel, Inhuman or Degrading Treatment or Punishment in 1994 but unfortunately all the relevant amendments have not yet been made in the legislation of Georgia, something which significantly hinders the struggle against torture.