CHF helps IDPs in Berbuki rebuild their lives
By Etuna Tsotniashvili
Friday, July 3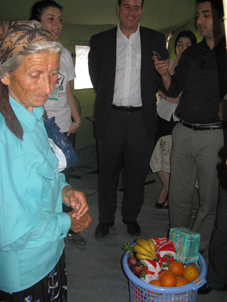 Levan Burnadze has started a new life in the IDP settlement in Berbuki, in the Gori region. A "double IDP" as he calls himself, because he has had to flee from both Tskhinvali and subsequently Tamarasheni, he is now getting used to his new place and examining new opportunities.
Burnadze runs a small business now; he owns a store in the settlement and sells mainly food and drink. CHF International's USAID-supported Georgia Emergency Livelihood and Shelter Programme (GELS) has helped him construct a new store bigger than the ones there previously, as there was a demand for this in the settlement.
Burnadze is not the only one in his village who has started a small business with CHF aid. CHF has provided 22 beneficiaries with startup grants, including 2 shops, a barber's shop, a tailor's and a beekeeping enterprise. According to CHF officials these projects are being implemented in close coordination with the Ministry of Refugees and Resettlement, the Shida Kartli Governor's Office and Gori Municipality.
Speaking at the CHF support project's closing ceremony, the Country Director of CHF, Brian Husler, said the displacement and resettlement caused by last year's conflict had posed significant economic challenges for the households of IDPs and returnees. He said that IDPs moving into a new environment had found income-generation opportunities scarce, forcing their dependence on food aid and other assistance. "Resettlement meant starting a new life in a community with limited access to basic public services and markets, and scarce employment opportunities," Husler noted.
He said that in response to this, GELS has supported 31 families hosting IDPs with cash assistance and non-food items, organised an agricultural service centre in the Berbuki administrative unit, rehabilitated the roads between the farmers and the markets, rehabilitated and cleaned irrigation channels and rehabilitated irrigation wells. Husler said that in the Berbuli Settlement CHF has provided 22 business startup grants, provided cash-for-work activity for 134 IDPs which helped them fence their properties and assisted 26 vulnerable families with assistance packages containing products purchased from the small business started in the Berbuki Settlement.
Tengiz Zhuzhunashvili, and IDP living in Berbuki, was one of the people employed in the fencing works in the settlement. "Before the fencing was installed, it was impossible to grow anything in the yard because animals were wandering through. Furthermore, this settlement looks much more beautiful now," Zhuzhunashvili added.
Deputy Governor of Shida Kartli region Zurab Chinchilakashvili thanked CHF for the completed work. "USAID and CHF have done a lot to make the conditions of the IDPs living here much better and congenial than before. I hope you expand the area of your activities," he said. Chinchilakashvili thanked the IDPs for their patience and cooperation with CHF. "If it were not for your support of this organisation, the projects would not have been so successful," he noted, adding that it was important that the IDPs were employed at the works.
David Gosney from USAID said the activities carried out by CHF were of crucial importance for Berbuki Settlement residents. "In hard times it is very useful to share hope and smiles. We realise that tens of thousands of people's lives were devastated as a result of the conflict last August. That's why the people of the United States wanted to give you some help to rebuild your lives. We know that there is much to be done and the assistance that we've been able to make is a very small piece of it. On behalf of the American people I would like to convey their hopes and prayers that your future will be filled with peace and stability," Gosney noted.