Law on demonstrations to be "clarified"
By Mzia Kupunia
Friday, July 3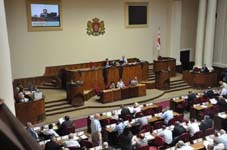 Ruling party MPs have taken the initiative of preparing draft amendments to the law on rallies and protest manifestations in which they will "clarify" some of the regulations. In the package of draft amendments prepared by MPs Pavle Kublashvili, Murtaz Zodelava, Lasha Tordia and Kakha Anjaparidze blocking off roads artificially is declared illegal. Blocking roads with cars or other objects will also be banned. The draft amendments will indicate that a partial or complete blockage of the roads will only be possible if the number of demonstrators is sufficient to block the street and for this reason it is impossible to hold the rally without closing the road. The amendments will also clarify that blocking roads is permitted only while there are enough rally participants to justify it.
MP Pavle Kublashvili told journalists that obstructing the movement of public transport on purpose is banned under the current law; however he said it has been decided to "clarify" it even more. Kublashvili said it is necessary to define what "deliberate blocking of the street means." "It means blocking traffic through putting some kind of obstacle on the street. Barricading streets is not allowed in any country," Kublashivili noted. "In the future the blocking of roads with cells or other constructions will be addressed accordingly and appropriate measures will be taken by law enforcers," he told
Maestro TV
.
The draft amendments also envisage allowing the police to use non-lethal weapons. Under the current law, policemen can use tear gas, water cannon and rubber batons. If the package of amendments passes through Parliament rubber bullets and other types of non-lethal projectiles will be added to this list. According to the authors of the package, the aim of the amendments is to ensure there is a "maximal distance" between demonstrators and law enforcers during a raid in order to prevent additional complications occurring. Non-lethal weapons will be used to repel attacks on civilians, police or fixed objects and to stop mass or group violations of public order. Under the current legislation only tear gas can be used for such purposes.
The non-Parliamentary opposition politicians who have been holding protest rallies against President Saakashvili for about three months and blocking Tbilisi's main avenue with improvised cells, have called the draft amendments "fascist". Kakha Kukava, co-leader of the Conservative Party, has said that the most "concerning" part of the package is that related to non-lethal weapons, which according to Kukava includes plastic bullets as well. "You will not find any country in Europe where they fire plastic bullets at demonstrators," he told The Messenger. "The Government has realised that despite the number of demonstrators having decreased for the summer there will be a new typhoon of demonstrations in Autumn, so it is panicking and trying to make its repressive regime even more strict," Kukava stated.
Parliamentary committees have not started examining the proposed amendments yet.