The NABUCCO project is a done deal
By Messenger Staff
Tuesday, July 14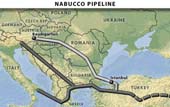 Turkey and four EU states signed a deal on the NABUCCO pipeline project in the Turkish capital Ankara on July 13.
The NABUCCO Intergovernmental Agreement was signed by representatives of transit countries Turkey, Bulgaria, Romania, Hungary and Austria. The pipeline will pump natural gas from the Caspian region and Central Asia to EU countries, enabling them to obtain natural gas without having to go through Russia. The pipeline will also pass through Georgia and Azerbaijan among other countries, and Georgian President Mikheil Saakashvili attended the signing ceremony.
Preparations for the project began back in 2002, when NABUCCO was considered the main competitor of the Russian-backed pipeline projects South Stream and Blue Stream. Russia is now the biggest provider of gas for the EU. "Some time ago people said that this project would not go ahead, that the negotiations seemed irrevocably blocked. Now we have an agreement and I believe this pipeline is now inevitable rather than just probable," stated European Commission President Jose Manuel Barroso at the ceremony in Ankara. He called NABUCCO "a truly European project" that "will provide energy security for Turkey, Southeast Europe and Central Europe."
"NABUCCO is going to make a contribution - it's going to [deliver] gas from different sources, through different transport routes, and therefore it's going to bring more security of supply, more freedom of choice to European markets," said the European Commission's energy spokesman Ferran Tarradellas, who was interviewed by Radio Free Europe. "But this doesn't mean that we're not going to go on working with Russia. On the contrary, Russia is very likely to remain our main supplier of gas and NABUCCO has never been a project against Russia," he added.
The pipeline will be 3,300 kilometres long; it will be able to transit up to 31 billion cubic metres of natural gas each year, around 5-10 percent of the EU's gas needs. Georgia considers NABUCCO to be an important element in its national security whose importance has increased after the August Russian-Georgian war.
"Russia's aggression against Georgia and its cutting of gas supplies to many European countries were part of its policy of aggression," stated President Saakashvili in Ankara on Monday. "A project of such scale involving so many players has not been implemented in this region yet and this is a very interesting step forward. The struggle for Caspian gas is underway and this is a competition, a struggle for the huge resources existing in Kazakhstan and Turkmenistan. Of course, this is a competition which involves cooperation with not only European consumers but China and Japan, and we should take all factors into consideration. By our [the Georgian delegation's] arrival here today we express our support [for NABUCCO] not only in words; we have adopted many declarations in the past, but sometimes there was a sense that we were idle [in moving forward with this project]," Saakashvili said.
Construction of the pipeline is scheduled to begin in 2011, by 2014 it should be fully operational.