Medvedev visits South Ossetia
By Temuri Kiguradze
Tuesday, July 14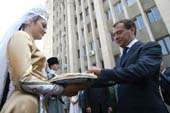 Russian President Dmitry Medvedev paid an unexpected visit to the Georgian breakaway region of South Ossetia on July 13. The so-called South Ossetian Press Ministry has reported that the Russian leader was met by the de facto leader of the breakaway region Eduard Kokoity. "We have a holiday today," stated Kokoity, commenting on Medvedev's visit.
"Thank you for the invitation to visit your new country, South Ossetia, which has been created as the result of difficult and dramatic events and which was supported by the Russian people during its hard times. I think that today's first brief working visit of the Russian Federation's President will create the basis for different kinds of contact and friendly relations," stated Medvedev in Tskhinvali on July 13.
"You will show me what we should do and what the most important issues we should pay attention to are," Medvedev told Kokoity, underlining that Russia will continue to support the breakaway region in different spheres including economic rehabilitation and security. The South Ossetian de facto leader thanked Medvedev for his recognition of the region after the August Russian-Georgian war.
The Georgian media has already called this visit "scandalous" and Georgian politicians have evaluated it as "provocative" and "inadequate." It has been announced that Georgian MPs have asked the Foreign Ministry to publish an official statement of protest.
"This step is directed against Georgia," stated Chair of the Georgian Parliament Davit Bakradze in Tbilisi on Monday. Bakradze noted that the visit coincides with the signing of the NABUCCO pipeline project agreement in Turkey. "While the whole of Europe is striking a deal on the diversification of energy supplies in order to overcome Russia's energy monopoly, the Russian President enters the occupied territories, in Tskhinvali," said Bakradze, adding that this step shows that Russia is not able to "adequately respond to global developments." "This visit once against confirms that there are people in the Russian leadership who have made it part of their action plan to damage Georgia," said Bakradze.
Georgian MPs did not dissent. Davit Darchiashvili said the visit was "an alarming and very unconstructive step." "By visiting Tskhinvali Medvedev took a step against its neighbour [Georgia] and this step will not be left without reaction from the international community." Akaki Minashvili, Chairman of the Foreign Affairs Committee of the Georgian Parliament, said that Medvedev wanted "to compensate for the weakness showed by him in Moscow" during Barack Obama's visit on July 6, at which the American President expressed US support for Georgia's territorial integrity.
Georgian political analyst Gia Khukhashvili has stated that Medvedev's unexpected visit to Tskhinvali resembles former President Bush's visits to Iraq. "Russia continues to support breakaway South Ossetia. This step is directed at the West, mainly to show that whatever statements or changes it makes the Kremlin will not turn its back on Tskhinvali. It also confirms Medvedev's earlier statement that the recognition of these two regions [of Abkhazia and South Ossetia] is irreversible," Gia Khukhashvili told
The Messenger
on July 13.