Minister of Environmental Protection visits local citizens in Samtskhe-Javakheti
By Messenger Staff
Tuesday, August 25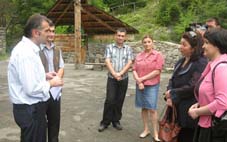 The Minister of Environmental Protection and Natural Resources Goga Khachidze met with hotel owners and guides in Samtskhe-Javakheti on August 24. At the meeting held in the National Park of Borjomi-Kharagauli the local people who are engaged in the tourism business discussed the current problems they are facing.
According to the minister there are better statistics regarding the number of tourists this year than in previous years. "Many foreign as well as local tourists have visited the protected territories and our goal is to increase their number. Maybe they don't hunt here in this park but there were only three deer some years ago and their numbers have significantly increased and they can now be seen by visitors," minister said.
According to the local tourism business people "Many tourists visit our region and advertisements play a significant role in popularizing the region. Before August last summer there were a lot of tourists, but their numbers decreased after the war. This year the situation has improved and we have many visitors, let's hope that everything will be all right," one of the hotel owners Maia Aitsuradze said at the meeting.
Earlier during his visit Khachidze met many members of the local population of Samtkhe-Javakheti and listened to their problems. The local residents spoke to the Minister about the problems of firewood and drinking water. This year the Ministry started preparing for winter season earlier than in other years. 16, 000 m3 of logging areas in the forests are assigned for the population of Samtkhe-Javakheti Region.
"The local population is often displeased because of social conditions but there is a law. The population is never against making laws more lenient. A compromise should be found. The problem of providing firewood has been emphasized and everything will be done in order to ensure that the population can meet the winter season well prepared," stated Khachidze.
After his meeting with the people, Khachidze inspected the completed river bank protection construction at the river Abastumnistskali in the village Varkhani, Adigeni Region. The river was a difficult and unsolved problem for many years. The river frequently flooded the houses of local people and their gardens during heavy rains and snow melt. The government spent. 30 000 GEL on the preventive works from the state budget.
The Minister of Environment Protection also met with representatives of ethnic minorities in the region.