Putin to visit South Ossetia to celebrate "recognition day"
By Temuri Kiguradze
Tuesday, August 25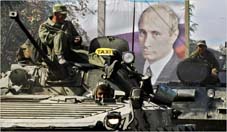 Russian media reports that Russian Prime Minister Vladimir Putin and Moscow Mayor Yuri Luzhkov are planning a visit to Tskhinvali on August 26, the day of Russia's recognition of South Ossetia.
Russian officials will take part in celebrations in the breakaway region together with de facto South Ossetian leader Eduard Kokoity. The visit is also dedicated to the opening of a new residential district, named "Moskovskyi," after the capital of Russia. "Moskovskyi" district is built near Tskhinvali on the place of destroyed Georgian village of Tamarasheni.
Tbilisi announced its protest against the upcoming visits naming it a "cynical action." "Even Nazis haven't done such actions – to name a village after the capital of the country which has destroyed it," stated Georgian deputy Foreign Minister Alexander Nalbandov speaking at a press conference in Tbilisi on August 24. Nalbandov also noted that the "Moskovskyi" district is located on the place where ethnic cleansing took place during last year's Russian-Georgian war.
The Georgian breakaway provinces of Abkhazia and South Ossetia are going to meet "the recognition day" with a number of celebratory activities. Separatist authorities of South Ossetia also announce that 26 of August will be recognized as a holiday in the breakaway region. "The day when Russia recognized South Ossetia is the same holiday as the day of independence and we will celebrate it on the highest level," stated the leader of South Ossetian separatists Eduard Kokoity on Monday. The breakaway region also plans to "establish some kind of world record" on August 26 and even "conduct negotiations with the representatives of Guinness Record Book" to organize their visit to South Ossetia.
Differing from South Ossetia, another Georgian breakaway region of Abkhazia will be more modest in the celebration. "We're looking quite calmly on that. The anniversary of this holiday will be celebrated in a solemn but modest way. We understand that we still have a difficult goal to achieve – to become a subject of the international law," stated Abkhazian de facto president Sergey Bagapsh when interviewed by Russian radio station
Ekho Moskvy
in late July 2009.
Russia recognized the independence of South Ossetia and Abkhazia on August 26, 2008, soon after a brief Russian-Georgian war, the only country that followed Russia's example was Latin American Nicaragua; the international community including EU, OSCE and NATO has condemned this decision. Georgia announced its breakaway region to be occupied by Russian troops.
Referring to further development of events around the recognition Georgian political analyst Soso Tsiskarishvili noted that if any other country recognizes Georgian breakaway regions it will not be a "voluntary act." "Russia continues its political hooliganism and tries to drag in as many countries as possible in its process, so it's not excluded for Russia to use all the levers it has to make other countries support its decision. However it will not have any meaning because the residents of these possible recognizing countries for sure will not have any idea what is Abkhazia and South Ossetia and where the Caucasus is," stated Tsiskarishvili speaking to
The Messenger
on August 24.
"In recognizing Abkhazia and South Ossetia Russia has fulfilled a long time dream; however it has become a hostage of this decision. Despite the fact that Russian authorities try not to notice, the country is in international isolation," concluded the analyst.