Security concept being discussed
By Messenger Staff
Wednesday, October 28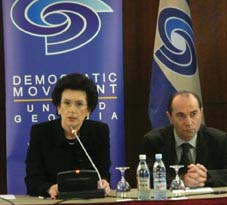 Georgia's security concept is flawed, because it did not consider a Russian attack on Georgia to be a priority threat before it happened, but although this is admitted no analysis of the concept has been made by official bodies so far. Nino Burjanadze, the former Chair of the Georgian Parliament, and now one of the most radical opposition leaders, said this in her welcome speech to the invited independent analysts, media representatives and foreign diplomats who had gathered to discuss her party's alternative security concept.
The Democratic Movement-United Georgia, led by Burjanadze, has elaborated a new approach to the security concept which states the key reforms which it would undertake if it came to power. The party's concept is based on increasing democracy, demanding more transparency and involving the population in the decision-making process so that the country serves its citizens and not vice versa. The discussion showed that with some minor amendments the audience supported the general direction of the draft document.
The concept addressed different areas, including military, political and economic policy external and internal.