EU reiterates its support for Georgia
By Mzia Kupunia
Wednesday, October 28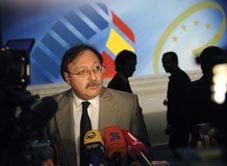 The European Union is committed to Georgia's security and stability, based on full respect for the principles of independence, sovereignty and territorial integrity, and to a peaceful and lasting conflict resolution, a statement released after the EU-Georgian Cooperation Council session on Monday says.
The 10th annual session of this body was held in Luxembourg. Georgian Foreign Minister Grigol Vashadze and Vice Prime Minister and State Minister for Euro-Atlantic Integration Giorgi Baramidze participated in the session along with Commissioner for External Relations and European Neighbourhood Policy Benita Ferrero-Waldner and Deputy Director General for Eastern European Affairs Juan Jose Rubio de Urquia. The EU Special Representative for the South Caucasus, Peter Semneby, also participated in the meeting.
The parties discussed the implementation of the EU-Georgia European Neighbourhood Policy (ENP) action plan, the enhancing of EU-Georgian relations and the possibility of the negotiation of a new EU-Georgia Association Agreement within the framework of the Eastern Partnership, the EU statement reads. According to Georgian Foreign Ministry the EU delegation welcomed the work carried out by the Georgian side in implementing reforms and the EU-Georgian ENP Action Plan. "The sides underlined the importance of cooperating within the bilateral as well as multilateral components of the Eastern Partnership. The European side welcomed the active participation of Georgia in thematic platform meetings within the multilateral format of the mentioned initiative," the Ministry of Foreign Affairs said in its own press release.
EU delegation members stressed the importance of "sufficient progress in democracy, rule of law and human rights" in Georgia, which according to the EU statement "are important conditions for the deepening of bilateral cooperation between the EU and Georgia within the framework of the Eastern Partnership." "The EU further stressed that fundamental freedoms, as well as freedom of expression and freedom of the media, are essential elements in the bilateral dialogue with Georgia. It reaffirmed its willingness to continue its support for the further development of democratic institutions in Georgia, including within the framework of the European Neighbourhood Policy and the Eastern Partnership," EU officials said in the statement.
The issue of settling the conflicts in Georgia's breakaway regions was also discussed. The sides underlined the need for the continued presence on the ground of the EU Monitoring Mission. The EU's role in the Geneva discussions and the increased financial assistance pledged by the EU at the International Donors' conference designed to achieve "post-conflict rehabilitation, support of internally displaced persons and economic stability" were also on the agenda of the session.
The Georgian Foreign Ministry assessed the session as a step forward in EU-Georgian relations. Deputy Foreign Minister Alexander Nalbandov said it is "impossible and inappropriate" to highlight any individual issue discussed as the most important. "All the issues on the agenda were important. We should always discuss EU-Georgian relations in their broader, complex aspects," Nalbandov told
The Messenger
.