Ebralidze reiterates his Presidential ambitions
By Mzia Kupunia
Monday, November 16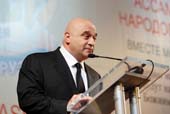 Russian-based businessmen of Georgian origin Alexander Ebralidze has reiterated his ambition to win the 2013 Presidential elections. "My aim is to win the Presidential elections within the framework of the law and the Constitution," Ebralide said on Friday during a video call from Moscow at the opening of the World Congress of Georgian People's Tbilisi branch. Ebralidze is the President of the organisation, which was founded in March 2009.
Ebralidze said that he has a "sacred mission" of establishing a "democratic, strong, independent and neutral" Georgia. He spoke about his plans if elected President, promising to restore Georgia's territorial integrity in "a maximum 2-3 years time." However he did not specify how exactly this would be achieved.
Ebralidze, who currently holds Russian citizenship, has applied to President Mikheil Saakashvili to grant him citizenship of Georgia. "I have applied for citizenship and am waiting for an answer, however I have not received any reply so far," he said.
Ebralidze, who is seen as a close ally of Kremlin officials, said he will not pursue a pro-Russian policy but will have good relations with Russia instead. "Establishing good relations with Russia does not mean pursuing a pro-Russian policy, it is a pro-Georgian policy," he said, adding that Georgia should join the EU as well. He denied speculations in the Georgian media about alleged negotiations with some political parties in Georgia, including with Nino Burjanadze's Democratic Movement-United Georgia and Zurab Noghaideli's Movement for Fair Georgia. "I have not had any negotiations with any political force in Georgia. Unfortunately there is no independent opposition party in the country, they are all ruled from one centre," Ebralidze noted.
The businessman said he is planning to come to Georgia. "I was going to attend this opening. However when I saw how the Georgian authorities refused to allow Alexander Kinteraia, the head of the Russian branch of this organisation, into the country I decided to stay in Moscow," Ebralidze said. "But I will come to Tbilisi in the near future anyway. See you soon in Georgia," he added.
Georgian MPs have said that Ebralidze should stand for the Russian Presidency rather than the Georgian. "It is hard to understand why a person who blames Georgia for the August war wants to become Georgia's President," ruling party MP Nugzar Tsiklauri said, adding that it is unlikely that Ebralidze will gain the support of the Georgian population.