20 years in Georgia
Wednesday, December 2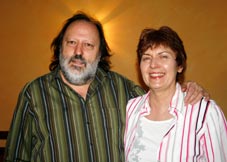 Rainer Kaufmann, journalist and entrepreneur
At Christmas 2009, it will be exactly 20 years since German journalist and entrepreneur Rainer Kaufmann began his commitment to Georgia. He first came here to accompany a student exchange programme and immediately looked for ways to operate a business here. Today he runs a medium-sized business in Europe and Georgia and has the longest experience of any foreign entrepreneur in Georgia, possibly the only one who has been continuously active in Georgia for two decades.
Rainer Kaufmann and his wife Gabi started to get involved in tourism in the early 90s and were the first German tour operators to make Georgia known as a travel destination after the collapse of the Soviet Union. Their company, ERKA-Reisen GmbH, is up to now the only German Caucasus specialist, and has brought several thousand tourists from Germany to Georgia, Armenia and Azerbaijan in the past two decades. ERKA travel has paid particular attention to bringing tourists into the different regions of Georgia, especially Svaneti. More information can be found at: www.erkareisen.de.
In Georgia Gabi and Rainer Kaufmann have invested in the tourist hotel Kartli, in the Vera district of Tbilisi. Thus they are the only tour operators from Europe who are also represented in the country with private investment. For more than 15 years Rainer Kaufmann has run what was first the restaurant 'Rainer's Cafe' and later 'Rainer's Pizzeria and Beer Garden' in Barnov Street , now one of the most popular and successful European cuisine restaurants in the Georgian capital. More information can be found at: www.hotel-kartli.com.
In addition to classic European dishes the creative restaurant owner has also tried to combine modern European cuisine with Georgian elements. In recent years he has created a number of new dishes and published them on his website, www.georgien-news.de under the heading "New Georgian cuisine". At Rainer's Pizzeria he currently offers his 'EUROPEAN SUPRA,' a dinner in the tradition of the Georgian supra, comprising, however, dishes from all over Europe. The latest culinary innovation from hotel Kartli is the Khatshapuri-Burger, a mixture of American hamburgers and Georgian Khatshapuri.
In Germany the couple runs an event-restaurant, which also offers Georgian specialities beside other dishes. There the Georgian supra is very popular and Rainer Kaufmann has taught his kitchen team in Germany how to cook and serve it. More information can be found at: www.kaufmann-schlachthof.de.
In addition to tourism and gastronomy the skilled TV journalist has been engaged in journalism throughout the past two decades. More than 15 TV documentaries have been produced with his assistance for several German television channels, including one of the most famous documentaries about Svaneti in 1994 (ZDF German Television - Terra X: Glacier Gold) and one part of the three-part documentary on Stalin for the ZDF commemorating the 50th anniversary of the dictator 's death. As part of the research team on this film Kaufmann received an Emmy Award nomination for outstanding achievement in the field of research and documentation.
Through several photo calendars, exhibitions in Georgia and Germany and especially two book publications Kaufmann has tried to bring Georgia closer to his German countrymen. His latest book, "Georgia - a travel reader" has just been published. It does not only deal with the culture, history, landscape and people but also with the entire political and social development of Georgia since the collapse of the USSR, a period which the author experienced, and sometimes suffered, in the country itself. Kaufmann was one of the few European journalists on the spot at that time. More information can be found at: www.erka-verlag.de.
During the entire period in Georgia Gabi and Rainer Kaufmann have paid special attention to training their employees and partners, especially in the tourist regions, doing this without any support from any Government or NGO. There are about 50 families in various regions of Georgia who now at least partly live by working in the various occupations they were trained in by ERKA Reisen.
Rainer Kaufmann: "If I'm proud of any one thing I have achieved in Georgia, then it is the fact that almost all of those people trained in one of our companies now work successfully in their jobs. Some of them are also successful competitors of ours. But their success is to a small extent our success too."