Press told what the President thinks
By Gvantsa Gabekhadze
Thursday, December 17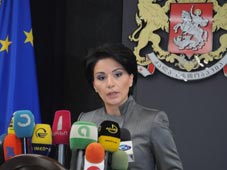 President Mikheil Saakashvili's Press Spokesperson, Manana Manjgaladze, held a special briefing on December 15 at which she commented on the President's decision to increase the size of the Georgian mission to Afghanistan, his attitude towards the detention of two teenagers by the puppet regime of Tskhinvali and the Georgian People's Congress in St. Petersburg.
Saakashvili believes that increasing the Georgian military presence in Afghanistan is in Georgia's interests. "All the soldiers involved in this mission are volunteers who do great service for Georgia and gain very necessary and serious experience which will safeguard the country's future security," said Manjgaladze.
Manjgaladze said that the President refuses to make any kind of "trade-off" over the release of the teenagers held by the separatist South Ossetia Government. "The President believes that any trade-off with the occupying regime is inadmissible. Mikheil Saakashvili is grateful to European officials for their efforts and calls on them to resist the trading in human beings which is being pushed for by the occupying regime," she said.
The de facto authorities in breakaway South Ossetia are insisting on what they call an "all for all exchange" of detainees. Despite a commitment given to Council of Europe's Human Rights Commissioner, Thomas Hammarberg, earlier this month, Tskhinvali still holds two Georgian teenagers from the village of Tirdznisi in detention. Hammarberg secured the release of five Ossetians and two Georgian teenagers on December 2, but avoided describing the reciprocal release as a swap of detainees, "because I do not think we should be involved in trading human beings; that is not right." Georgian officials have been reluctant to speak publicly about the release of the five Ossetian men, who had been held in the town of Gori.
Manjgaladze also said that President Saakashvili believed that the so-called Presidential elections in Abkhazia were illegal. "The US and the European Union have already called these elections illegitimate. The Georgian President considers this terminology correct, as 80% of the local people have been driven from this territory. No one has treated Georgian people in this way since Shah Abbas. There are no local people there any longer, Russia has managed to turn them out and lodge some people of other nationalities and Russians there," Manjgaladze noted.
The Press Spokesperson also said that in the President's view the Russian authorities are trying to impose destabilisation and confrontation in Georgia by sponsoring meetings such as the Georgian People's Congress. This congress was organised by Aleksandre Ebralidze, a businessman with Russian citizenship, who has announced that he intends to stand for President of Georgia. "The President considers that Ebralidze is a means for Russia to impose further destabilisation on Georgia. Russia has some scheme whose main intention is to cause strain in this country. Medvedev stated last week that Saakashvili is legally responsible for all the crimes which took place during last August's events, although the Tagliavini report said that Russia is guilty of things like genocide, which is an international crime," Manjgaladze said, adding that Russia is making some statements but these are only empty words, such as when Medvedev states that he wants a simplification of the visa regime with Georgia and the reopening of the Larsi checkpoint but takes no real steps in this direction.
The final part of the briefing was dedicated to cultural activities and arrangements for the New Year. She said many memorable festivals had been organised in Georgia and a lot of famous musicians had visited the country, which is a hint that Georgia is developing. Some important jazz, rock, rap and pop festivals are planned for next year as well. Finally, Manjgaladze stated that the President intends to continue assisting Georgian culture.