Georgia must deliver in three areas, says outgoing EU Commissioner
By Etuna Tsotniashvili
Friday, December 18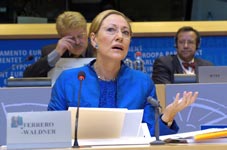 Outgoing EU Neighbourhood Commissioner Benita Ferrero-Waldner made a speech at the European Parliament on December 15 in which she outlined the priorities in the EU-Georgia relationship, citing three areas in which Georgia had "to deliver more".
The first of the areas was the promotion of democratic reforms in the country. Ferrero-Waldner noted President Saakashvili's recent announcement of a new wave of democratic reforms and said that if Georgia's response to Russian aggression will be more democracy, more freedom and more progress this was very welcome.
"Georgia should promote further democratic reforms. Democracy, rule of law, respect for human rights and fundamental freedoms are the backbone of our relations with all our eastern partners," the Commissioner stated.
Ferrero-Waldner emphasised the forthcoming elections in Georgia and stated that local elections in Tbilisi in May will be "a test of these commitments", adding that this will be the first time the Tbilisi Mayor is elected directly. She said that these elections provide Georgia with the opportunity to reestablish its citizens' trust in the electoral process, as the shortcomings of the electoral system remain a significant potential source of instability in Georgia.
The Commissioner cited demonstrating "strategic patience" towards the breakaway regions as the second area where Georgia should deliver more. She remarked that the EU has played a key role in bringing an end to the hostilities. "We will not waver in our support of the territorial integrity and sovereignty of Georgia, as we have said. We will do all we can through our monitoring mission and our mediator role at the Geneva talks to work for the normalisation of the situation," she said, highlighting that the isolation of the breakaway regions "will not help efforts for conflict resolution," but smart policy engagement is needed in both regions. Ferrero-Waldner also remarked that the current Georgian Government intends to develop a state strategy for the regions, an action which deserves their support.
The Commissioner said it is too strictly implement the Law on the Occupied Territories, which may unnecessarily increase friction and thus complicate the delivery of assistance, adding that amendments have not been made in this law although the Council of Europe's Venice Commission gave very good advice to Georgia. "We will continue to urge Georgia to make the suggested adjustments," she said. Ferrero-Waldner also told European Parliamentarians that the EU-mediated six-point ceasefire plan "is not being fully implemented" and "every time we work with Russia this is on our agenda."
The third area Ferrero-Waldner cited is the ongoing negotiations for a new EU-Georgia association agreement in the context of the European and Eastern Partnership. "Preparations for the establishment of a new legal framework for our bilateral relations are proceeding quite well. We have swiftly prepared the negotiation directives for an EU-Georgia association agreement, which are now currently under discussion in the Council. The draft negotiation directives include the future establishment of a deep and comprehensive free trade area," she said.
Ferrero-Waldner said that the Commission has already presented to Georgia key recommendations for steps to be taken before the country can be judged ready to embark on this area of negotiations. "Georgia's resolve to use the run-up to the negotiations to speed up its own preparations is wise, and I think it is essential that it tackles the key recommendations very actively," she said.
The Commissioner also talked about EU-Georgia visa facilitation and readmission agreements, saying that now these were awaiting final approval from both sides. She also mentioned the recently signed joint declaration on a mobility partnership between the European Union and Georgia which is to be completed soon.
She said that the EU could not "give everything to every county without them doing their part." "We have to ask them to also do their part; this means that a free trade agreement can only be there when right legislation is there."
"We are supporting Georgia more than anyone else… we try to help them as much as we can, but we also want to see the right behaviour from Georgia," Ferrero-Waldner said.
Several MEPs debated the situation in Georgia. Vytautas Landsbergis from the PPE remembered the time when his home country, Lithuania, was invaded by the Soviets and noted that he learned several songs at school at that time, including a Georgian song called Suliko. "Many years have passed, and recently we came across this girl Suliko again, this time with her dark eyes full of tears and showing signs of having been beaten. She was abused once more a year ago – robbed, beaten and raped. We, the 27 EU gentlemen, are staring at her ,and asking in a strange manner: How could this happen? What did she do wrong? Did her behaviour irritate the rapist? That is exactly what he says: "She was provocative!" Did she oppose his demands? That would be unwise: nobody, especially the robber and rapist, may be antagonised or demonised. She could have been more flexible, met the assaults reasonably, but she tried to defend herself for two full days – that was her greatest mistake. Nobody can now say who the attacker was: he says she attacked him," Landsbergis stated.
"That is the situation in a distant country court on the outskirts of Europe, where the big landlord cannot be sentenced in any case, but she can. Thus we now have a fresh problem caused by her, as our business with Mr Rapist has been slightly damaged. The next time, Mr Rapist will be given our special pill 'Mistral' to increase his male capacities," he concluded.