Tbilisi denies Moscow's accusations over Dagestan
By Mzia Kupunia
Thursday, December 24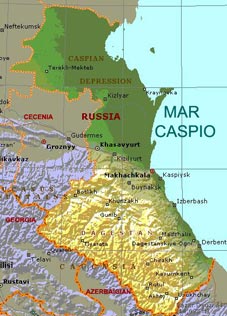 The Russian Federal Security Service has accused Georgia of training terrorist groups to attack strategic facilities in Dagestan, the
Interfax
news agency reported on Tuesday. The Dagestan Department of the Federal Security Service possesses information that these attacks are due to be carried out before the New Year on the Dagestan energy and railway systems, according to
Interfax
.
Russia has strengthened security measures on the Georgia-Dagestan border to avoid possible incidents, the Russian Federal Security press service said. The information about possible attacks in Dagestan is now being verified, the press service reportedly told RIA Novosti.
Tbilisi denied this allegation on Wednesday. "These senseless accusations are aimed at distorting Georgia's international image, but the statements are so absurd that I do not think they can bring any positive results for Russia," ruling party MP and Chairman of European Integration Parliamentary Committee Davit Darchiashvili said. Parliament Vice Speaker and opposition MP Paata Davitaia also said, "Russia's allegation is absurd; I would not be surprised if tomorrow they say that Georgia is planning to attack Moscow," he noted. "Such allegations are part of the Russian Government's PR campaign. These statements make it obvious that Russia is not planning to fulfil the Medvedev-Sarkozy agreement," Davitaia added.
Some officials linked Moscow's accusations with its attempt to blame the tense situation in the North Caucasus on Georgia. "Terrorists are usually being trained in a particular place, but it has become obvious that there are no terrorists in Pankisi Gorge. Russia cannot control the situation in the North Caucasus and now wants to blame this on Georgia," Christian Democrat MP Levan Vephkhvadze said.
Analysts give several reasons for the Russian officials' statements about possible attacks on Dagestan. Nika Chitadze agress that Russia is unable to control the situation in the North Caucasus, especially Dagestan and Ingushetia, and is trying to blame Georgia for Moscow's "weakness". He added that Russia is conducting an information war with Georgia and these latest statements are part of this campaign. "Russia wants to discredit Georgia in the eyes of the international community and wants to present Georgia as a state promoting terrorism," Chitadze told The Messenger.
A third possible reason for Russia's accusations could be its wish to draw public attention from the problems in Georgia's breakaway regions, particularly in Akhalgori and Gali, according to Chitadze. "Russia is not fulfilling its commitments under the 6-point agreement and therefore needs to show that Georgia is also not adhering to its own commitments. The Kremlin is working on the principle that the best form of defence is attack," the analyst said.
Chitadze downplayed some Georgian officials' suggestions that Russia is trying to "prepare grounds" for new provocations in Georgia. "A new large-scale military aggression from Russia is unlikely at this point," he stated, adding that through the statements it is making against Georgia Moscow is trying to put psychological pressure on the Georgian population and breed panic.