Bad weather disrupts transport again
By Salome Modebadze
Wednesday, January 6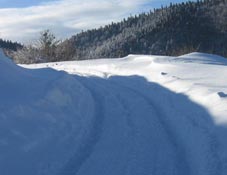 On January 5 weather forecasters predicted a sharp fall in temperature for the next two days. However most of the roads have been cleared of snow and traffic is moving again. The Kobi-Gudauri sector of the main highway has been cleared, although restrictions were placed on movement on the Mestia-Ushguli motorway.
Movement restrictions had previously been imposed on the Georgian motorways due to the bad weather conditions. The Road Department of Georgia said traffic had been blocked on the Gudauri-Kobi motorway due to the threat of possible avalanche. Most types of cars were prevented from travelling on the Chumateli-Khevi sector of the Tbilisi-Senaki-Leselidze motorway due to heavy snow and the movement of cars without protective chains was also forbidden on the Mestia-Ushguli sector of the Zugdidi-Jvari-Mestia-Lasdili motorway for the same reason. Clearing these roads began just after the relevant permission was received.
"Intensive clearing activities are underway on the Pasanauri-Larsi sector. The Gudauri-Kobi sector is temporarily blocked due to the danger of heavy snow and possible avalanche, but cars with protective chains can move freely move on Pasanauri-Gudauri and Larsi-Kobi sectors," Nugzar Gasviani, Head of the Road Administration Department, told the media. "We are still afraid of an avalanche and clearance activities will start at the Gudauri-Kobi sector just as soon as this danger is overcome," he added.
The Centre of Monitoring and Forecasting of the Ministry of Environmental Protection and Natural Resources reported there would be sleet in western Georgia but it would be sunny in the eastern part of the country, especially in Tbilisi and Kakheti, from January 5 despite a drop in temperature. The mountains remain covered with snow between 90-150 centimetres thick in Kobi, Gudauri and Jvari. The Centre suggests that this will not descend however and it may become sunny even in the mountains, however this would freeze the valleys below and the temperature will drop to -20. Snow will not fall in Georgia for at least another couple of days, forecasters say.
"We forecast a freeze in the lowlands especially in the eastern parts of Georgia, while the temperature will rise a little in the western parts of the country. Generally we expect sunny weather, which will last for a couple of days," stated Dodo Gvazava, Head of the Short Term Forecasts Department of the National Environment Agency.