The opposition should not talk to Russia, says Zourabichvili
By Gvantsa Gabekhadze
Tuesday, January 26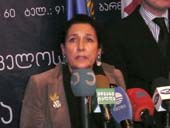 Salome Zourabichvili, leader of the opposition party The Way of Georgia, held a press conference on January 25 at which we she fixed her party's position on relations and negotiations with Russia and outlined what the opposition's main goals should be at the present moment.
As the Georgian opposition has no levers of power, no mandate from the country and no right to speak as its representative holding negotiations with Russia is absolutely unacceptable, Zourabichvili said. She stated, that at the present moment the opposition should concentrate on the most important issue, the local elections. "Dialogue with Russia will be meaningful only after the opposition comes to power. The opposition's main battle, which is starting now, is the elections, and the only thing the opposition should be concentrating on is preventing the present Government falsifying them. We should fight this battle to the end and win, and only after this will the opposition be able, or have a right, to think about negotiations with Russia," Zourabichvili said, adding that Georgia should resolve its own internal problems without foreign interference, especially from Russia, which recognises Abkhazia and so-called South Ossetia as independent. "The real opposition is the opposition which will fight for victory inside the country and not look for assistance from outside," Zourabichvili said.
The Way of Georgia leader said she was criticising both the Government and part of the opposition. "The Government is trying to use the Russian factor for its own interests, by claiming that the opposition is unreliable because it is connected with the enemy. As for those opposition parties who want to negotiate with Russia, they should realise that the Russian road will only be unfavourable for the opposition," Zourabichvili said.
In response to The Messenger's question of whether part of the opposition wants to improve relations with Russia due to disappointment with the West, Zourabichvili did not comment on specific reasons but repeated, "everyone can justify their actions with some kind of reason, but the fact is that the opposition should consolidate around common goals, not search for assistance from foreign sources."
On January 18 the Conservative Party proposed holding public debates on the Georgia-Russia relationship and asked the opposition, the ruling party, the Church, civil society, business persons and the Georgian Diaspora to get involved in these. Opposition parties expressed varying opinions on this initiative, but Government supporters said that Russia's anti-Georgian activities lay behind it and accused the opposition of having hidden connections with the enemy.