US does not think Abkhazia and South Ossetia should be recognised, Gordon says
By Mzia Kupunia
Wednesday, February 3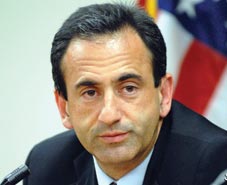 The United States and Russia have a different view on the issue of recognition of Abkhazia and South Ossetia as independent states, Assistant Secretary of State for European and Eurasian Affairs Philip Gordon said at a briefing at the Foreign Press Center in Washington on Monday.
The "verdict" of the international community on the declared independence of South Ossetia and Abkhazia is pretty clear, Gordon said. "The overwhelmingly vast majority of countries around the world do not recognise their independence and have no intention of recognising their independence. I think you have Nicaragua, Venezuela, and Nauru, which have stepped forward. That's not exactly a resounding endorsement. We have a different view from Russia on this issue," he added.
The US is "actively engaged" with countries around the world in an effort to make the position of the United States clear, according to the Assistant Secretary of State. "It's not a secret that we don't think South Ossetia and Abkhazia should be recognised. We don't think that this promotes stability in the region, and we make our view clear to our international partners," Gordon stated, adding that it does not require an active American campaign to prevent recognition "because just about every country in the world shares our view that Georgia's territorial integrity and sovereignty should be respected and there should be other ways of dealing with the tensions within Georgia."
When speaking about the security situation in Europe, Gordon said it was "imperfect". "I don't think anyone would claim that the institutional structures and practices are pristine, they don't need any improvement, so let's preserve the status quo and we'll all be fine. We had a war in Georgia a little more than a year ago. If nothing else, that is evidence enough that these structures are imperfect and we need to do better," he stated.
There is no need to invent new mechanisms or treaties to fix the security problems in Europe, Gordon suggested, referring to the proposal of Moscow to adopt a new European Security Treaty. "We have appropriate channels; we need to use them," he said. "I would finally add that we need to build trust among ourselves. The underlying problem that led to the conflict in Georgia, and sometimes leads to broader tension, is mutual suspicion, and frankly, an attitude of zero-sum thinking that if it's good for NATO or the United States, it's somehow bad for Russia. And that is simply not our view," Gordon stated.
Georgia has never become a subject of bargaining between the US and Russia, Georgian Foreign Minister Grigol Vashadze said, commenting on the statements of the US Assistant Secretary of State. "Gordon has once more pointed out to Russia that despite cooperation between Washington and Moscow in several fields, Georgia will never be a subject for trade," Vashadze noted. "The United States will never recognise Georgia's occupied regions as independent states. For now the efforts of Georgia and its friendly states have brought positive results, and if we look at Russia's so called 'victories', we will notice that there is nothing in them which could give us that impression," the Minister added.