Speaker of Parliament in Turkey
By Messenger Staff
Thursday, February 11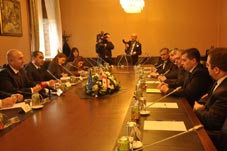 Turkey supports Georgia's territorial integrity and will never recognise the independence of Abkhazia and South Ossetia, President of the Parliamentary Assembly of the Council of Europe and Turkish MP Mevlut Cavusoglu stated during his meeting with Georgian Parliament Speaker Davit Bakradze on February 9. Cavusoglu and Bakradze, who is paying an official visit to Turkey, discussed Georgia-Russia relations and the occupied territories.
Cavusoglu promised Bakradze that he will visit Georgia and monitor the current situation.
The sides agreed that the international community should do its best to return the process of conflict resolution to the framework of international law.
Bakradze also met the head of the Georgia Friendship Group in Turkey's National Assembly Jelal Erbai. The meeting stressed that Georgian-Turkish Relations should be a good model for every country. Cooperation between these two countries is a safeguard of stability in the region. Erbai underscored that 362 Deputies had supported the formation of the Georgia Friendship Group, extra evidence of the firm relations between the two countries.
Bakradze offered to include Turkey in the implementation of the Georgian strategic plan for conflict settlement, which involves the establishment of various projects for the Abkhazian and Ossetian peoples and will foster public relations in the region. He and Jelal Erabai also spoke about the joint Georgia and Turkey economic and energy projects so far planned.
David Bakradze invited members of the Georgia Friendship Group to visit Georgia. Prior to his meetings he visited the Ataturk Mausoleum and laid a wreath on his grave.