ICC round table
Thursday, February 11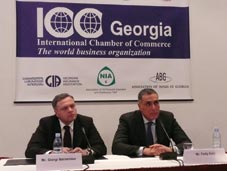 An International Chamber of Commerce (ICC-Georgia) round table, Chaired by Fady Asli, was held at the Sheraton Metekhi Palace Hotel yesterday.
Vice Premier and State Minister for European and Euro-Atlantic Integration Giorgi Baramidze was invited to make a presentation. ICC members present were thus given an official statement on EU-Georgia co-operation, free trade and other agreements which Georgia and the EU are considering. The Minister also covered issues related to NATO integration and answered questions from the audience.
The meeting proved to be further evidence of the useful co-operation between the business community and state officials.