US to increase financial support for Georgia in 2011
By Mzia Kupunia
Friday, February 26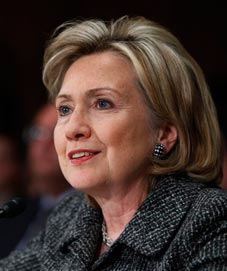 The United States is increasing its financial aid to Georgia for 2011, US Secretary of State Hillary Clinton said on February 24 while presenting the Proposed Budget Request for Fiscal Year 2011 to the Senate Committee on Foreign Relations.
"Georgia remains a high priority for this administration," Georgian media outlets quoted Clinton as saying. The US administration is sending a "very clear message that we are supporting the Government of Georgia," the US Secretary of State said. "We stand up for Georgia in many international settings against the very strong attitudes expressed by its Russian neighbour," Civil.ge quoted Clinton as saying. The US Secretary of State also hailed Georgia for its support of the Afghanistan peacekeeping mission.
Clinton's statements have been assessed in Tbilisi as an expression of not only economic but also political support. "The remarks of the Secretary of State about allocating additional aid for Georgia confirm that the US administration respects Georgia's statehood and its territorial integrity," analyst Nika Chitadze said. Political analyst Soso Tsintsadze suggested that "although Clinton's statement referred to financial aid, it also implied the context of political support."
Opposition Christian Democratic Movement MP and Vice Speaker of Parliament Levan Vephkhvadze described Clinton's statement as an important message to Moscow. "It is a direct message to Russia that Georgia is not alone, the United States remains devoted to the Strategic Partnership Charter and Georgia's de-occupation is the number one priority in the relations between the US and Georgia," Vephkhvadze stated.
Meanwhile Georgia and the US have signed a bilateral agreement on cooperation in energy infrastructure. Georgian Finance Minister Kakha Baindurashvili and Assistant Secretary of State for Economic and Business Affairs Jose W. Fernandez signed this document within the framework of the US-Georgia Strategic Partnership Charter. It envisages allocating USD 122 million for energy sector development in Georgia. The money is part of the USD 1 billion aid package pledged by the US in September 2008 following the Georgian-Russian military conflict in August.
The United States is meeting its commitments made after the August war, Fernandez noted. "We are glad to participate in restoring and developing Georgia's energy infrastructure," he told journalists after the signing ceremony. The allocated funds will be spent on building a gas pipeline in Poti and setting up electricity transmission systems in Senaki, in the Samegrelo region, Georgian Finance Minister Kakha Baindurashvili said.
The Minister hailed the agreement, calling it a project of "double importance." "Firstly the project is very important because it ensures that the local population [in Poti] will not have natural gas problems any more, and also we are developing a free industrial zone in Poti, so bringing in additional gas is really necessary there. This will help boost production," Baindurashvili noted. About USD 80 million will be spent on Poti Pipeline construction and about USD 30 million on setting up electric transmission cables in Senaki, according to the Minister.
Georgia and the US signed a Charter on Strategic Partnership on January 9, 2009. The document envisages cooperation between the two countries in security and the economic and cultural fields.