Strong export figures reported
By Salome Modebadze
Wednesday, March 3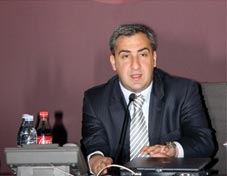 Exports increased 72% in January 2010 compared to January 2009, which points to a serious growth of exports in our country, Nika Gilauri, Prime Minister of Georgia, said at a Government session on March 2. "There was an increase of about 10% in the export of almost all items, including transport deliveries, and this tendency highlights how the Georgian economy is growing," he added.
Gilauri further stated that real estate, car market and mortgage indicators for February 2010 were also available and similarly encouraging. Real estate transactions increased 11.7% on 2009. and the frequency of granting mortgages has also seriously increased, meaning that the banking sector has become active in supporting the economic growth of the country which is reflected in taxation income. "In February tax revenues increased 9%, but most importantly GDP increased 13%. I want to stress that all misunderstandings have come to an end in a variety of industries," Gilauri said, adding that he hoped that March would be a similarly active month economically so that the first quarter of 2010 could end in a very positive way.
"Car registration increased 15.4% in February over the same period last year, the number of mortgages increased 66.2%, while the number building permits issued increased by 145%. Exports grew 72% in total over January last year, freight carriage by 10% and shipping by 30%. The economic activity of January-February 2010 indicates that GDP will be absolutely positive in our country this year," Nikoloz Mchedlishvili, the Head of the Prime Minister's Press Office, said in his brief introduction of the current economic situation in Georgia, adding that exports of copper, locomotives, gold, alcohol, fruit and mineral water definitely increased during this period.
The Messenger
asked Mikheil Janelidze, Head of the Department of Foreign Trade and International Economic Relations of the Ministry of Economy of Georgia, to give brief information about export conditions. "The diversification of Georgian export to decrease dependence on individual markets has become an important issue nowadays. A lot of products such as wine and mineral water are exported from Georgia to Europe and Asia and also some new ones, among which cement and tea are the top priority," Janelidze told us.
The Foreign Trade Department says that the number of countries Georgia has a positive trade balance with has increased by 9 while the number we have a negative trade balance with has decreased in 8. The CIS market is still important, with 80% more goods exported there than to European Union countries. Marina Macharashvili from the Ministry told us that the Department tries to fully support both small and large businesses. "The Department of Foreign Trade and International Economic Relations also provides small businessmen with detailed information through consultation within the Department to enable them to further develop their industries. Large businesses can export their products on preferential terms. They are given a certificate which verifies that some of their goods have been produced in Georgia," Macharashvili concluded.
Gia Khukhashvili, an economic analyst, explained to
The Messenger
that simple figures are not enough to develop export traditions in Georgia. "It is up to the Government to develop a proper economic base which will encourage industrial growth in our country. I definitely welcome the small steps made in export development, but I must unfortunately say that export figures are being manipulated. The real picture shows how terrible the balance is between the rates of import and export in Georgia. Export development is a long process which needs special support from the Government. It is important that businesses start producing goods and creating a competitive environment within the country first, then outside it," Khukhashvili said.