President happy to be drug tested
By Salome Modebadze
Tuesday, March 9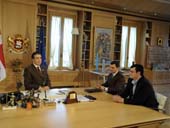 "I will be the first to provide hair samples. This is the one of the best initiatives I have heard recently. It is a modern method which doesn't offend the dignity of a person," Mikheil Saakashvili, the President of Georgia, told MP Dimitri Lortkipanidze on March 6. The President was referring to Lortkipanidze's initiative to take hair samples from senior officials as a way of testing for drug abuse with state structures. Lortkipanidze had suggested on March 5 that this could be done without making any changes in the criminal code, claiming that this method is particularly effective as it detect abuse up to 90 days prior to the sample being taken.
"There are now about 6,000 people who have been convicted of drug abuse in Georgia and this figure is alarming. The level of drug misuse has somehow stabilised in recent years, thanks to particular measures, but it is important to make it socially unacceptable," Saakashvili said, stressing that the real solution to the problem will be to treat addiction as a shame. He said that a proper environment should be created in which no drug addict would be able to gain employment, get married or be accepted either by friends or family, in oder to conquer this problem.
"The Government should listen carefully to all reasonable initiatives proposed by political groups and take the ones important for the country into consideration. It is important that everyone in the public sector undergoes this modern test in order to fully cleanse it," Saakashvili said. He encouraged MPs to provide hair samples, stressing that if the business sector decides to follow this example, the Government will cover the expense of doing this.
President Saakashvili ordered Aleksandre Kvitashvili, the Minister of Health, Labour and Social Protection, to develop a hair testing method which would reveal all cases of drug abuse. "I have seen Gigi Tsereteli, the Deputy Chairman of Parliament, who will provide his hair," the President said, smiling, stressing that the Committee of Healthcare and Social Issues will also be actively involved in this process.
The Labour Party has demanded that hair tests for politicians be conducted by European experts to ensure objective results. At a briefing on March 8 Soso Shatberashvili, General Secretary of the party, said that it mistrusts Georgian experts. "The Labour Party doubts that the results provided by Georgian experts will be objective as the Georgian authorities and especially Mikheil Saakashvili will try to affect them," Shatberashvili said.
"I fully agree with the new improved method of identifying drug abuse among state figures. Society has the right to have representatives free from any kind of addiction which will prevent them from effectively doing their work, as such people generally care for drugs rather than people," Nugzar Tsiklauri, a Government representative, told The Messenger. "The problem of drug addiction is one of the most burning issues in Georgia nowadays. The initiative proposed by Dimitri Lortkipanidze is very interesting, but I doubt that any kind of tests will reveal the real abusers within the state structures. The Government of Georgia will not want to remove officials who really are addicts," Manana Nachkhebia from the New Rights explained, adding that European experts will only conduct this process if the Government's wants them to, but it will not allow such a thing.
This initiative could be effective if the President himself gives the first sample, as he has said he would, and the tests are conducted fairly and genuinely under transparent conditions.