Bursting rivers displace villagers
By Salome Modebadze
Friday, March 12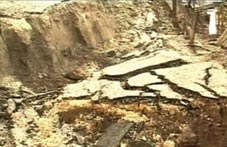 A landslide caused by heavy rain and flooding damaged villages in western Georgia on March 10. Families in the village or Orbeli in the Tsageri district were isolated from the rest of the world by the destruction of a 60-metre section of the Albana-Tsageri road. The damaged families, who lost cattle and poultry, are now waiting to be evacuated as the village is still in danger of a landslide. The local government and residents are trying to deal with the flooding.
Davit Gagoshidze, Governor of Racha-Lechkhumi and Kvemo-Svaneti, entered the village with the emergency commission to study the issue of resettling local families. He said that after remedial work the River Rioni would pose no further threat to the population. He also stressed that the damage caused by the flooding in the Ambrolauri region was insignificant. "The River Rioni broke its banks at several places in the Ambrolauri region, even though the population has not been affected. We have managed to deal with this problem by ourselves," Gogoshidze stated. "The commission has been studying the situation. Results of this investigation will be sent to the Government of Georgia for further discussion so that it can decide the fate of those families," he added.
The disaster caused about GEL 1 million of damage in the Imereti region. The flooding river in the village of Lajana affected 14 houses and families had to spend nights at their relatives'. The River Tskhenistskali damaged the road connecting the village with Lekhaindrao. The river also burst the pipe supplying Khoni with drinkable water. It is still difficult to move through the village of Zhoneti in the Tskaltubo region due to the heavy rain. A group of geologists from the Ministry of the Environment is continuing to work there. A flood also destroyed a bridge in the village of Simoneti in Terjola, which will cost GEL 800,000 to replace. .
Weather forecasters say that the changeable weather will continue for about a week. "The Ministry of the Environment is fully mobilised. Our geologists have been studying the situation on the spot. We will undertake activities to strengthen the riverbanks as soon as possible. We have already recommended to the local government that it resettle the families living in the danger zone," Goga Khachidze, Minister of Environmental Protection and Natural Resources, stated.