ISET trains young professionals in international trade theory and practice
Tuesday, March 23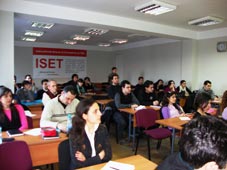 The International School of Economics at TSU (ISET) is holding a training course and competition entitled "International Trade Theory and Practice". 53 young professionals, recent university graduates, and fourth-year undergraduate students in Tbilisi have been selected to take part in this free course. The interactive training started on March 10. The course covers applied international trade topics and relevant data and statistical analysis methods.
Since ISET is a South Caucasus regional school the training is being conducted not only in Tbilisi but Yerevan and Baku as well. Following successful completion of the training participants will be invited to submit written projects for presentation at a Symposium on International Trade and Regional Integration in the South Caucasus in Tbilisi April 17-18. The best project written by participants from the three countries will be entered for the prize competition.
The course is being taught by regional and European instructors and ISET Professors and uses interactive methods to encourage participants to think about trade issues and data analysis in a new way. "Our training programme has several goals. It will expose students to economics and give them an idea of what it means to be an economist. Even more important is to equip students with some useful skills which will enable them to think critically about issues of international trade," notes Michael Fuenfzig (Ph.D., University of Pennsylvania), Professor at ISET, who leads the International Trade module of the training.
After a final exam on March 30 successful participants will start writing projects to be presented at the symposium and prize competition. Having developed a taste for economics, many participants in this training are already applying for admission to the ISET Economics MA programme.